The Gainful brand is one of the more reputable brands with multiple great products, such as collagen and protein powders. Their products are all-natural, and Gainful protein reviews are no exception.
Consumers havy multiple options regarding health supplements, with multiple brands begging for your attention (and money).
Gainful protein reviews show that the brand is fantastic due to the lack of artificial additives. Instead, it has all-natural ingredients, including 9 essential amino acids and 19-27g of protein per serving.
Gainful protein powder is excellent for losing weight and gaining muscle for gym goers. The product is not flavored; instead, the flavors are purchasable separately to add to your protein shake.
Some flavors include; strawberry cream, Madagascar vanilla, and chocolate peanut butter. Before you drool too much, let us look at how you take it.
How is it Taken?
Gainful protein reviews show that it comes in powder form, as earlier mentioned.
So if you want to stay traditional without any flavors, add 1-2 cups (6-12 oz) of water for each scoop of protein powder. Ensure that you mix well.
You can use 1-2 scoops depending on your needs. For example, if you find the water recipe too bland, you can use milk or add your gainful flavor of choice.
You can add frozen fruit or peanut butter to get that fancy taste if you feel wild.
Moreover, you should take the powder 30-90 minutes before or after exercise.
Active Ingredients
Gainful Protein Powder provides adequate protein intake in the form of 9 essential amino acids from all-natural ingredients.
The amino acids cannot be produced in the body. Therefore, you should include them in your diet for steady and healthy growth.
Gainful Protein reviews show the formula uses extracts from plants as natural sweeteners, making it very low in calories. Here are the most unusual ingredients.
1. Green Tea Extract
Green tea extract primarily helps to regulate metabolism. It is high in polyphenol catechins which are shown to be powerful antioxidants.
2. BCAA Blend
Gainful incorporated the branched-chain amino acid (BCAA) blend to aid muscle growth and recovery after an intense workout.
BCAAs are three of the nine essential amino acids making this a great addition to the protein powder.
3. Whey Protein
Whey protein is a protein powerhouse. This is due to its robust amino acid profile.
It has all 9 essential amino acids making it great for weight loss and muscle-building. In addition, a National Library of Medicine study backs up just how adequate whey protein is.
4. Organic Brown Rice Protein
Brown rice is rich in protein, making it an excellent source for vegans and non-vegans. It is also great for easing amino acid absorption.
5. Organic Pea Protein
Organic pea protein is another excellent vegan-friendly source of easily digestible protein.
It has an excellent amino acid profile earning its spot in the Gainful Protein Powder formula.
6. Micellar Casein
Micellar casein is a slow-digesting, slow-release protein. This makes it great for improving metabolism, strength, and endurance.
It also supports muscle recovery during crucial fasting times, such as sleep.
Benefits of Gainful Protein
Gainful Protein reviews show it has a variety of medically proven benefits. They include:
1. Increasing strength and stamina
The active ingredients in gainful protein ensure that you keep going during your workout and have the energy you need to pull through.
2. Burning fat
Gainful protein contains green tea extract, which helps improve metabolism, thus enabling you to burn fat more rapidly.
3. Aids weight loss
One factor determining how quickly you lose weight is how fast your metabolism is.
With the aid of green tea extract and Micellar Casein, your metabolism will be faster for more extended periods. This means more rapid weight loss.
4. Increases muscle mass and density
Whey protein is great for muscle-building protein.
This makes Gainful Protein an excellent supplement for bodybuilders and amateur weight lifters.
Gainful Protein Side Effects
Gainful Protein reviews highlight the side effects associated with taking protein powders. In addition, some users may be allergic to some ingredients.
The most common intolerance is whey protein. Symptoms of whey protein overdose or allergic reactions include:
Nausea
Increased bowel movement
Headache
Acne
Besides this, Gainful protein powder is made without common allergens such as soy and gluten. It also helps to stick to the stated dose to avoid unforeseen side effects.
Gainful Protein Reviews by Customers
What are users saying about the product? Here are some of the Gainful Protein reviews.
Positive Gainful Protein reviews:
It has a high protein content.
Additionally, it's low in carbs and fat.
The product provides increased energy levels during intense workouts.
It enhances endurance during workouts.
Finally, the brand has good flavor options.
Negative Gainful Protein reviews:
The flavors can be horrible.
It can also be expensive.
It contains a few servings per jar.
Alternative Protein Powders
Here are some alternatives to Gainful Protein Powder.
1. Nutricost Whey Protein Concentrate
Nutricost's Whey Protein has a couple of versions, including unflavoured, vanilla, strawberry, and chocolate. In addition, it is GMO and gluten-free.
It has a good 25g of protein per serving with an added 175mg of calcium as a cherry.
It also has fantastic reviews and is Amazon's Choice for protein powders.
Order Nutricost Whey Protein on Amazon.
2. Naked Whey
Another great option is Naked Nutrition's Whey. Naked Nutrition is renowned for using all organic ingredients in its products; this is no exception.
That means no soy, gluten, or GMOs. It also has 25g of protein per serving which is pretty good.
However, if you can't stand the horrible taste of unflavoured naked nutrition products, you can get their flavored options instead. They have the classic flavors of vanilla, strawberry, and chocolate.
3. Orgain Protein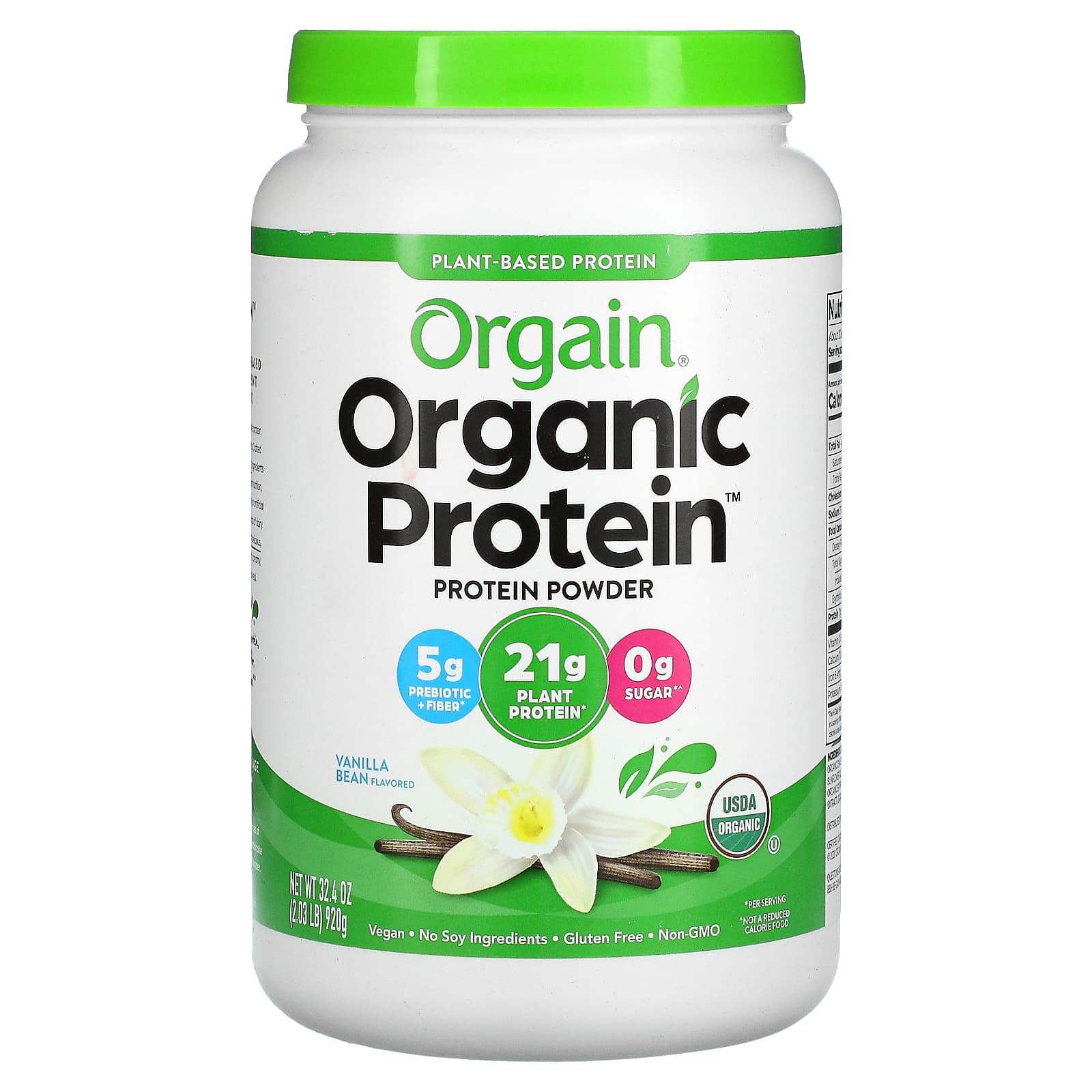 This is one of the highest-reviewed protein powders on Amazon.
It comes in five flavors. They are vanilla, iced coffee, natural unsweetened coffee, strawberries, and cream.
It is also certified organic and vegan-friendly.
Order Orgain Protein on Amazon.
Conclusion
There is little to hate about Gainful Protein powder. The Gainful website is very intuitive and informative.
The product is tailor-made for you by taking their short quiz, and the customer care is top-notch.
The ingredients used are well thought out and the amounts used are sane. Additionally, the product has a couple of good flavors.
The only issue is that it is expensive, but that is well worth it considering the quality.
Overall, a great protein supplement.
[related_posts_by_tax posts_per_page="4"]