As we age, our bodies endure many changes, such as a reduction in muscle mass, fat gain, constant aching of joints, less energy, and lines and wrinkles on our faces.
Collagen has a role in the effect of all these changes. Thus multi Collagen supplements such as Alaya multi collagen were made.
It supplies your body with five types of collage that keep your systems running properly. On the other hand, some foods can help improve muscle recovery and slow aging.
What is Alaya Multi Collagen?
It is a collagen nutritional supplement that provides your body with extra collagen to slow aging. Collagen is one of the most readily available proteins in the human body.
It is responsible for the texture and looks of your skin. It helps you in recovering and building new muscle.
Collagen also helps clot blood and strengthen your bones and ligaments.
What Types of Collagen are in Alaya Multi Collagen?
Studies show that they are several types of collagen in the body. Nevertheless, the four most common types are one to four.
Alaya multi collagen contains the types I, II, III, V, and X. Here is the breakdown of each type:
1. Type I
This is the most abundant type of collagen. It is the highest percentage of collagen in your body. Type I makes up your teeth, skin, bones, connective tissues, cartilage, and tendons.
Additionally, it consists of tightly packed fibers.
2. Type II
It makes up the elastic cartilage that helps hold your joints together, though its fibers are not as dense as type I.
3. Type III
This type of collagen is in your muscles. It also helps improve the health of your organs and your arteries. Additionally, it helps increase the growth of your lean muscle mass.
4. Type V
It gives a support role for type I and III collagen. It also helps to see fibrillation, which is the irregular beating of a person's heart.
This type of collagen is necessary for the health of the liver, placenta, and lungs. Moreover, it helps to strengthen your bone and muscle matrix.
5. Type X
It is collagen that decreases most as you age past twenty years old. It is also responsible for the formation of new bones.
Benefits of Alaya Multi Collagen
Due to how many bodily functions collagen support, it has many benefits. Here are some of the best benefits :
1. Increases Muscle Mass
Our muscle mass naturally reduces as we get older. Collagen makes up 10% of muscle tissue in our bodies.
Consequently, as the collagen amount reduces in your body, there is less of it in your muscles. As a result, your muscles begin to shrink.
Collagen supplements help slow down this process. It also sustains your energy output as a result of this.
2. Restores Your Skin
Your skin starts to dry out and lose most of its elasticity as a result of your aging.
Collagen supplements help rejuvenate your skin, rehydrate it and keep it from wrinkling. Thus, this makes your skin look healthier.
3. Reduced Joint Pain
Collagen helps produce the elastic collagen that cushions your joints from damage.
Taking collagen supplements, therefore, helps regenerate your cartilage. It can also stimulate your body to begin reproducing its collagen.
4. Reduces Bone Loss
Bones are made up mostly of collagen and need it to stay strong. As you age, your bone mass goes down. Consequently, causing you to suffer from bone issues such as osteoporosis.
5. Improves Your Heart Health
Collagen helps improve the health of your arteries. Your arteries weaken due to collagen reduction. They also become fragile and begin to close off.
It can lead to serious medical issues such as heart attack and stroke due to reduced blood flow.
Ingridients Used in Alaya Multi Collagen
It contains a multi-collagen complex, which contains hydrolyzed collagen peptides. They consist of the following:
Bovine collagen peptides
Avian collagen peptides
Fish collagen peptides
Chicken eggshell membrane collagen
It also has a multi-joint complex comprising chondroitin sulfate, methylsulfonylmethane, hydrochloride, and glucosamine. It helps your body use collagen more effectively.
How to use Alaya Multi Collagen
It is easy to use, and you can take it daily. You can mix it with your food or any liquid you enjoy drinking. Such as a smoothie or coffee.
The powder is tasteless, so it is easy to mix it with anything.
Customer Reviews
This product has a 4.5-star rating on Amazon.
The positive reviews state:
It prevents joint and back pain.
The powder aids in faster recovery.
It tastes delicious.
In addition, the powder blends well.
It reduces signs of aging.
The negative reviews state:
The unflavored collagen tastes horrid.
It can cause stomach upsets.
Order Alaya Multi Collagen on Amazon Now 
Alternatives to Alaya Multi Collagen
1. Primal Collagen
It is an easily mixable collagen supplement that comes from grass feed beef. It also contains nine essential amino acids.
Primal collagen contains no additives, preservatives, or sugars. It is also gluten and soy free.
Additionally, it contains glutamine and glycine that improve your digestive health and liver functioning.
It also helps reduce the chances of future deficiencies due to its ability to improve your metabolism. The supplement has some commonly occurring side effects, they include:
Headaches
Diarrhea
Nausea
Gastrointestinal issues
Bloating
Loss of appetite
Bad taste in the mouth
Take one scoop of primal collagen with at least 8ounces of water.
Order Primal Collagen on Amazon Now 
2. Vitauthority Multi Collagen Protein
It is a collagen supplement containing five different collagen peptides, hyaluronic acid, and vitamin C. It is manufactured in the U.S. and is GMP certified.
Vitaauthority is also non-GMO, free from soy and gluten. It has no smell and is tasteless, making it easily mixable, from your favorite drinks to food. Take it twice a day with at least 8 ounces of water.
The collagen peptides are from four groups: grass-fed beef, free-range chicken, wild-caught fish, and eggshell membrane.
Each serving contains 7g of protein, 30 calories, and no extra fat or carbohydrates.
It also has 50mg of vitamin C and 50g of hyaluronic acid. Both play a role in helping absorb collagen while improving the ability of your skin to retain more moisture.
It comes in many flavors that include strawberry, pink lemonade chocolate, unflavored and tropical punch.
Order Vitaauthority Multi Collagen on Amazon Now
3. Live Conscious Collagen Peptide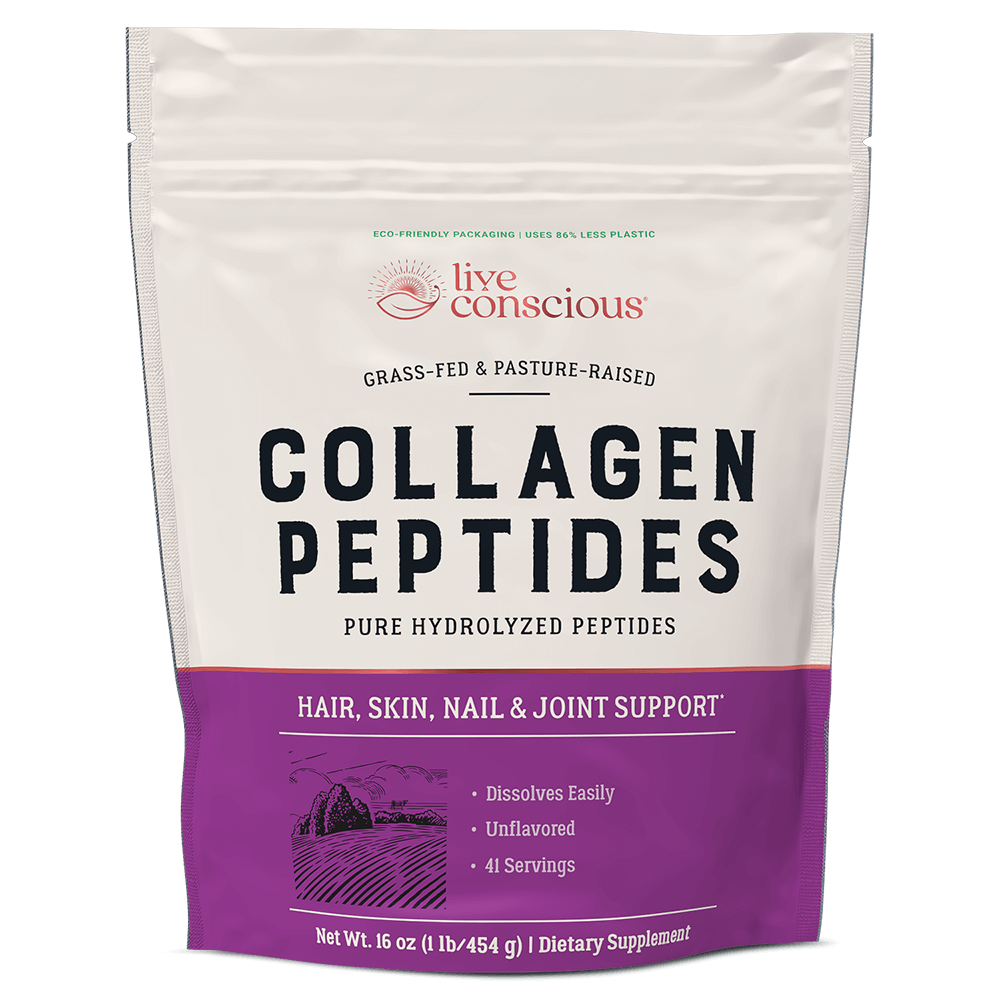 It is a collagen supplement that helps provide your body with a boost of collagen from pastured animals. It has no additives.
Each serving contains 11g of collagen, 55mg of sodium, and 40mg of calories.
It does not have any reoccurring side effects due to having very few ingredients, but if any, they may be due to the high amount of protein.
Order Live Conscious Collagen Peptide on Amazon Now
Conclusion
Alaya multi collagen is said to be one of the best collagen proteins. It is also vegan friendly and has micronutrients.
Nevertheless, each of the supplements listed above may provide ample breathing room in making your decision.
Ensure you consult a doctor before you invest in any supplement for your health and safety.
[related_posts_by_tax posts_per_page="4"]