If you work out often, you have heard about creatine.
There are many variants of Creatine: one of them is Six Star Creatine. It is a pre-workout supplement made from creatine monohydrate.
Lovate Health Sciences is the mother company of this supplement. It was introduced to consumers in 1957.
The company's prolonged existence in the fitness industry gives users a reason to trust its products. Therefore, its commitment to helping users achieve fitness goals is indisputable.
Hey, before you continue reading, check this out: A new proven way to lose up to 22 pounds (10kgs) in just 6 weeks without starvation or exercising for hours – click here to see it
However, read on to see if it's the perfect workout supplement.
Ingredients of Six Star Creatine
It has three primary ingredients: Those ingredients are classified based on their ability to build muscles, synthesize amino acids, and add flavor to the supplement.
1. Creatine HCl and Creatine Monohydrate
The supplement contains both creatine HCl and creatine monohydrate. They replenish the body with energy.
Additionally, they are an effective ingredient for the development of lean muscles. Furthermore, they aid in quick muscle recovery during and after intense workouts.
2. Leucine
Also, six star creatine has Leucine. It is one of the three essential amino acids and is a valuable ingredient for the growth of skeletal muscles.
Besides, research shows that it improves muscle growth and lean body mass. In addition to that, it stimulates the production of human growth hormones.
It also plays a critical role in controlling the level of blood sugar.
3. Isoleucine
Isoleucine is another essential amino acid used to make the Six Star Creatine blend. It has many benefits, most of which are not yet known.
However, there are some known benefits of this amino acid.
To begin with, it helps with the production of hemoglobin. Hemoglobin is an essential part of the red blood cell because it aids the transportation of oxygen to other body parts.
Also, they have a property that helps expedite the healing of damaged muscles. Additionally, it contributes to lean body mass and muscle development.
4. Valine
Six Star Creatine also contains a branched-chain amino acid called valine. This is an amino acid that is not readily available in the body. Therefore, you must attain it from your diet.
The ingredient is readily available in proteins, such as fish, meat, and dairy products. It also occurs naturally in plants, including nuts, whole grains, and vegetables.
Like other branched-chain amino acids, it promotes the growth of muscles and the healing of damaged muscles. What's more, it can increase your performance during intense workouts.
Besides, it can boost your immune system.
5. Taurine
Taurine is a naturally-occurring essential amino acid in the body.
It has several benefits. To begin with, it can prevent attacks from congestive heart diseases.
Also, it can control the nervous system, thereby managing seizures and anxiety.
Besides, it can treat diseases such as atherosclerosis (the hardening of arteries). Consequently, it improves blood flow and controls high blood pressure.
It also has glycine, methionine, arginine, sweeteners, carbohydrates, and electrolytes.
Benefits of Six Star Creatine
Below are some of those benefits:
It has branched-chain amino acids, which boost nitrogen levels in the body and have healing properties.
Also, it helps the body produce amino acids.
The supplement contains carbohydrates. Carbohydrates are ingredients rich in energy and may replenish your energy levels during workouts.
It contains electrolytes which are essential for promoting hydration.
How much Six Star Creatine Should I Take?
The product comes in powder form or as capsules. Therefore, their dosages differ. In the case of capsules, it is advisable to take two per day.
You can take them in the morning, and another in the evening. Alternatively, you can take both at once.
For the power, it is advisable to take two servings per day. One serving consists of three caplets. Therefore, taking two servings would mean taking six caplets.
The powder form dissolves easily to mix in your favorite drinks.
What are The Side Effects of Six Star Creatine?
Creatine is safe to consume, but it can have some harmful effects. Potential side effects are:
Dehydration
Stomach upset
Muscle cramps
It can also cause redness and itching when exposed to the skin.
Six Star Creatine Customer Reviews
The product has an average rating of 4.4 out of 5 stars from 6000 global reviews.
The positive reviews state:
It provides excellent gains in short sessions.
Affordable
Helps boost muscle growth.
Decent flavor.
It mixes well. However, it needs to be shaken 2-3 minutes after adding to your drink. It also only needs 8oz of water to mix thoroughly.
The negative reviews state:
It can clump if exposed to moisture.
Too sugary
Nausea
Nosebleeds and headaches
Itching and redness on the skin
Diarrhea
Order Six Star Creatine on Amazon
Alternatives to Six Star Creatine
1. Growth Surge Creatine Post Workout
This is a powdered creatine supplement that helps boost muscle growth.
It also helps with post-workout recovery and reduces muscle soreness.
This supplement ensures you get more gains from your workout.
Order Growth Surge Post-Workout on Amazon.
2. Nutricost Creatine
It is a micronized creatine monohydrate supplement.
You only take one serving before or after your workout because this is when it's most effective.
This product is optimized for creatine loading. It ensures you have more powerful pumps. In addition, it reduces muscle fatigue.
Order Nutricost Creatine on Amazon.
3.
Beast Sports Nutrition Creature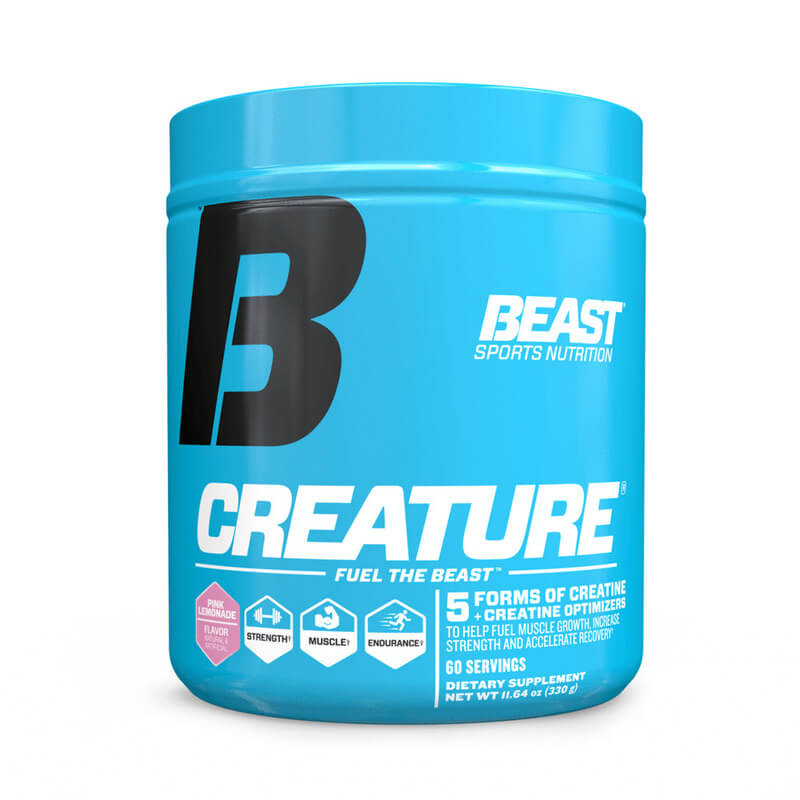 Beast Creature levels up your workout.
It guarantees a booster for your strength during workouts. Also, it delivers without the risk of gas, diarrhea, or bloating.
In addition, this helps boost the growth of lean muscle mass while cutting body fat.
Order Beast Sports Nutrition Creature on Amazon.
Conclusion
Six Star Creatine is an effective product for people looking to make more significant gains from their workouts.
However, you should start seeing changes in your physique after 2-4 weeks.
It is an effective supplement for those looking to add mass. Also, it is best for people who are used to high-intensity workouts, such as athletes and gym rats.
Six Star Creatine is an excellent product for men because its working principles tend to copy the effects of testosterone.
Conversely, women too can use this product.