Promescent is a company that majors in sexual products.  However, they have received criticism for their line of oral supplements over time.
On the other hand, their delay spray, according to Promescent reviews, if used as directed, is safe.
This Promescent review will take a closer look at the Promescent Delay Spray and answer some critical questions you might have.
What is Promescent Delay Spray?
As its name suggests, Promescent Delay spray is a sprayable product that delays ejaculation.
One of the main ingredients in this product is lidocaine. A study found lidocaine effective in preventing premature ejaculation in 150 participants.
How does Promescent Work?
According to Promescent reviews, the spray numbs the sensitive parts of the penis, reducing the likelihood of premature ejaculation (PE).
It absorbs into the nerves that serve to trigger ejaculation and numbs them for a while.
How Long Will Promescent Make you Last?
Promescent reviews state the spray can make you last for up to an hour. This depends on how much you apply. However, you should never overdo it since this can make you completely numb.
Other users have also shown concern about whether it can numb your partner. If used strictly as directed, the effect should only be on the user.
Additionally, a user is advised to apply this product approximately ten minutes before sex to allow for better absorption.
The ten-minute period also ensures that the spray completely absorbs into their skin and does not spread to a partner.
What is The Dosage of Promescent?
Promescent reviews recommend that you adjust the spray's dosage to your preference. However, you are advised against going beyond ten sprays.
Is Promescent Effective?
Promescent reviews and reports show that it has effectively delayed ejaculation for some people.
A study conducted in 2016 indicates that Promescent delayed ejaculation for 91 men. It also increased the quality of sexual experience for the participant and their partners' perception of them.
Worth noting is the fact that the participants gave their feedback 14 days after use.
What are The Ingredients of Promescent?
The following are the ingredients listed in Promescent reviews.
1. Lidocaine
Promescent delay spray is a lidocaine-based product.
Each spray of Promescent contains 10 mg of lidocaine, an active anesthetic with numbing properties.
Over time, studies have been conducted to show the effect of lidocaine in the treatment of PE, some of which include:
A study in 2020 purposed to find the effectiveness and tolerability of a 5% lidocaine spray in 150 participants. According to the findings, these participants with lifelong PE recorded improved PE after 8 weeks.
Similarly, an older study published in 2003 recorded the same results for a spray. This spray contained 7.5 mg of lidocaine, and 2.5 mg of prilocaine, among other local anesthetics.
The 11 participants who completed the study reported that the spray increased their lasting time from 1 minute and 24 seconds to 11 minutes and 21 seconds.
Other ingredients
Other ingredients contained in the spray include:
Ceteareth-20
Cetearyl Alcohol
Citric Acid
Dimethicone
Farnesol
Macadamia Ternifola Seed Oil
Panthenol
The Pros and Cons of Promescent
According to Promescent reviews, you stand to benefit from the following advantages when using the spray:
Pros
1. Has effective ingredients
One of the top pros of this spray is that it contains something very effective as its primary ingredient. Lidocaine is very effective in the treatment of PE.
2. Safe for most people
Similarly, the ingredients in this spray have worked out reasonably well for many users.
3. Available over the counter
As mentioned before, Promescent is an over-the-counter drug. Hence, there is no prescription required to use it.
4. Easy to use
Since the product comes in a spray, it is easier to apply than cream or gel.
Cons
1. Takes time
Users are required to use the spray before sexual intercourse.
Additionally, they must wait 10 minutes to begin their activity. This is not effective as it can kill the mood.
2. Difficult to work on a flaccid penis
Promescent reviews say applying this spray can be difficult if the penis is not already erect.
3. Allergic reactions
Even though most people respond positively to the main ingredient of Promescent, some are still allergic to it.
4. There is a risk to sperm viability
According to Promescent reviews, the spray may not be helpful for couples who want to conceive. It may have effects on sperm, hence the difficulty in conception.
Does Promescent have Side Effects?
Common side effects of the spray include:
Mild irritation in areas where the spray is applied.
Numbness in places the spray may spill on.
However, you are to contact your doctor if you experience the following upon application:
Severe burning sensation, stinging, or irritation in the area applied.
Swelling or redness in areas applied.
Sudden drowsiness after application.
What do The Ratings Say?
Promescent reviews on Amazon show an overall rating of  3.8 out of 5 stars.
Some of the positive reviews include:
It truly works.
I recommend this one.
It does delay your ejaculation.
I applied it to my partner, and it turned out great!
The product can also make you last longer.
Similarly, the product has equally received its share of bad reviews such as,
It reduces sensitivity during sex.
It is unpleasant for oral sex.
The large bottle can be inadequate.
It has a terrible odor.
Finally, noticeable lidocaine scent.
Order Promescent Desensitizing Delay Spray for Men on Amazon.
What are The Alternatives to Promescent?
Alternatively, there are many other delay products on the market. If Promescent does not work for you, try out the following alternatives:
1. K-Y Duration Desensitizing Delay Spray for men
This alternative also contains lidocaine.
It also has a reduced partner transfer rate if used per the manufacturer's instructions.
The product can also provide staying power for up to 25 minutes.
Order KY Duration Desensitizing Delay Spray for Men.
2. Stud 100 Premature Delay Prolonging Genital 1 Spray
This alternative first appeared in the market around 1970. It, therefore, stands the test of time.
However, one is advised to use it 15-30 minutes before sex.
The product also has plenty of five-star reviews from other countries.
Order Stud 100 Premature Delay Prolongng Genital 1 Spray on Amazon.
3. Doc Johnson Powerplus Delay Cream for Men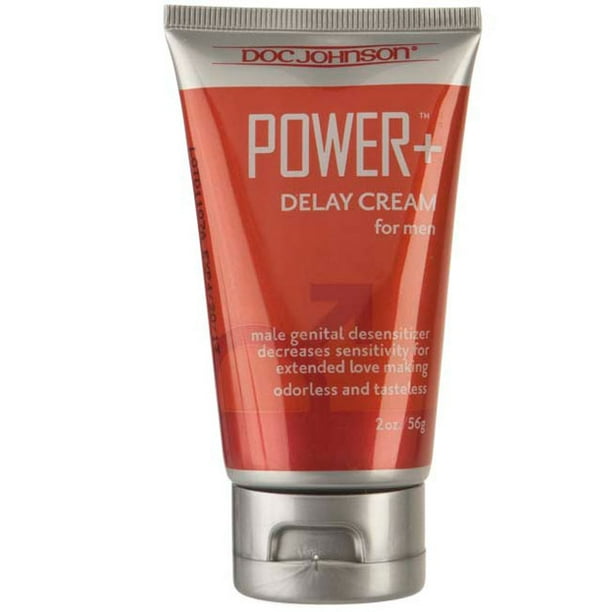 This alternative comes in a cream form.
It is odorless, tasteless, non-sticky, and sugar-free.
The product is also allergen-free. It uses benzocaine. Therefore, it's a perfect alternative for people sensitive to lidocaine.
You need to apply it at least 10 minutes before sex.
Order Don Johnson Power Delay Cream on Amazon.
Conclusion
If you still don't experience benefits with the delay sprays and creams, consult your doctor to check for underlying conditions that may require instant medication.
You can also try masturbating a few hours before intercourse to delay the risk of premature ejaculation.
Particular condoms also reduce sensitivity and can help you last longer in bed.
[related_posts_by_tax posts_per_page="4"]