About 30% of men experience premature ejaculation in their lifetime. Prosolution pills can help with that.
It's a supplement that treats premature ejaculation. Furthermore, it improves sex drive. 
Premature ejaculation occurs when you have an orgasm sooner than you would like. In some instances, in just one minute.
Because of this, many people seek effective forms of treatment.
Nonetheless, there is no fixed time when one should ejaculate. However, there is considerable shame and frustration when it occurs too fast.
 Note that Prosolution plus is an improved Prosolution pills formula.
Causes Of Premature Ejaculation
There are various theories on the causes of premature ejaculation. Often, they involve mental and emotional factors. For example:
Anxiety

Stress

Depression 

Low self-esteem
On the other hand, there are physiological reasons for this condition. Such as:
Low serotonin levels

Low dopamine levels

Unusual sex hormone levels 

High sensitivity

Erectile dysfunction
Prosolution Pills Formula and Composition?
First, we need to go through the active ingredients in this supplement. As a result, you will know what to expect from this drug.
Tribulus Terrestris
It is a herb native to Asia. Moreover, it is a natural aphrodisiac. As a result, it improves sex drive.
Unfortunately, it does not raise testosterone levels in humans.
Withania Somnifera 
Also known as ashwagandha, this shrub has several benefits.
First and foremost, it increases nitric oxide levels. As a result, it increases blood flow in the penis. So, you have a bigger erection.
Asparagus Adscendens
Asparagus helps relieve stress.
Mucuna Pruriens
This legume has several aliases. Like monkey tamarind, velvet bean, cowage, and cowitch. 
Mainly, it boosts dopamine levels. Therefore, improving neuroprotective activity.
Consequently, you will have better sexual activity.
Asteracantha Longifolia
This herb helps treat urinogenital illnesses and inflammation. Additionally, it helps men better control their ejaculations.
Curculigo Orchioides
Studies show it increases the frequency of sexual activity. Overall, it improves sexual performance and libido.
Asphaltum
Often, this sticky substance is mixed with other herbs. This blend creates a remedy that stimulates the secretion of cytokines.
Cytokines are proteins that enable cells to communicate with each other.
How do Prosolution pills help Premature Ejaculation?
The Prosolution formula is a blend of herbs and minerals with proven benefits. 
First, Tribulus Terrestris stimulates sexual desire. Then, Withania somnifera increases blood flow to the penis. Thus, you get firmer and longer erections. 
Asparagus reduces stress. So, you are less likely to have performance anxiety. Next, Mucuna pruriens increases the production of dopamine for better erections.
Finally, Asteracantha longifolia helps you regulate your ejaculation. Together, these substances improve your sexual performance. 
Prosolution Dosage and Instruction
A single serving is two capsules. Take these tablets with a meal and a glass of water. In case of sexual activity, you may take one extra tablet beforehand. However, avoid taking more than two pills.
 In case of any other medical conditions, consult your physician first.
Lastly, this drug is not a substitute for any medication a doctor may prescribe.
What are the Prosolution Plus Results?
Recently, a clinical trial was carried out to test the efficacy of this drug.  
As a result, there was a 64% improvement in symptoms of premature ejaculation. Further, there was a 67% improvement in erection quality. Finally, there was a 78% improvement in sexual satisfaction.
Accordingly, the female partners of the participants claim increased sexual satisfaction as well.
This study validates the efficacy of this drug. 
According to some, this supplement will improve your sexual life within three weeks. Typically, you experience the best results within 3 to 6 months.
Benefits of Taking Prosolution Plus 
Now, let's go through the advantages you will experience from this formula.
1. Increases sex drive
These pills improve libido with natural ingredients. Consequently, you long for sex more often. 
2. Better quality erections
Firmer and longer-lasting erections are a guarantee with these pills. As a consequence, you last longer during sex.
3. More intense orgasms
Sex performance issues often leave you dissatisfied. Here's the solution for you. With this drug, your orgasms are likely to be intense and satisfying.
4. Prevents premature ejaculation
Above, we give multiple ways this pill prevents premature ejaculation. Often by giving you longer-lasting erections.
5. Natural ingredients
As mentioned earlier, Prosolution sources all-natural ingredients. These are herbs and minerals. There are no pharmaceutical chemicals in this pill. 
6. Prescriptions are not a requirement.
Unlike prescription drugs, you don't have to see a medical professional to access these drugs. Instead, source them from Prosolution's website.
Dangers of Taking Prosolution

These are some of the disadvantages of consuming this drug.
Headaches

Diarrhea

Restlessness

Stomach upset
Still, these side effects rarely occur. When they do, they are mild.
Customer Reviews on Prosolution Pills
It has a rating of 5 stars on Amazon.
One customer claimed to have seen an improvement in libido. Consequently, they enjoy sex more often. And do not experience the anxiety of underperforming.
Another consumer thinks Prosolution is the best sexual enhancement drug they have tried.
One man says the drug helped him without having to take hormones.
Most reviews are highly encouraging. Also, they highlight the issues men with performance problems worry about—for example, confidence. One reviewer claims he finally feels self-confident again.
Some other points to make are the low likelihood of side effects and the high quality of the drug.
Who wouldn't look forward to all these benefits in one product?
Order Prosolution Pills on Amazon.
Prosolution Pills Alternatives
1. Prime Labs Tribulus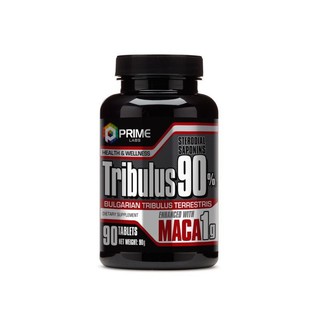 This supplement helps prevent premature ejaculation. Like Prosolution, it contains Tribulus Terrestris. Thus, it increases your sexual desire. 
Take two capsules with water.
Order Prime Labs Prime Labs Tribulus on Amazon
2. Satoomi Horny Goat Weed
This supplement has a potent blend. As a result, you get a strength boost and better sexual performance. Besides Tribulus Terrestris, this pill has Vitamin D and maca root. 
Most consumers give positive reviews about the results this pill has caused. Therefore, it is an excellent alternative to Prosolution.
Order Satoomi Horny Goat Weed on Amazon.
3. VigRX Plus Male Virility Supplement
This product aims to help men maintain a firmer erection for longer. Mostly, natural ingredients make up this supplement.
That is, extracts from various herbs. 
Conclusion
In conclusion, Prosolution plus is one of the best drugs for premature ejaculation. 
Not only does it have natural ingredients, but those ingredients also have proven benefits. Moreover, its reviews are positive.
For these reasons, this is one of the best premature ejaculation pills available. 
[related_posts_by_tax posts_per_page="4"]