If you've encountered weeds, you will know that some are bad while others are good. The good ones can be consumed and have several health benefits.
If you have come across organic sea moss, you already know that it increases immunity and fertility and improves gut health.
It can also help you lose weight, increase your heart's health, and speed up muscle recovery.
It is available in capsules, gels, powders, and gummies. You can also consume it in its raw form.
Here are some recommendations for organic sea moss supplements you can buy.
1. NutriVein
NutriVein is highly affordable.
At that price, it comes with many benefits, including a money-back guarantee, free shipping, and other health benefits. Also, you can get a 60-day dose at $19.95.
NutriVein organic sea moss is made up of vitamins B2 & B12, calcium, chromium, zinc, iodine, magnesium, and antioxidants.
It is low in fat and calories, which is good for your heart's health. On top of that, it has high levels of minerals, making it an excellent dietary supplement.
What you will love about it
It clears your respiratory system within a few days.
It can also help you manage joint pain.
The product clears your skin.
It also boosts hair and nail health.
Great energy booster.
What you may not like
Headaches and nausea
It may be ineffective.
It also poses a risk to people with hyperthyroidism due to its iodine levels.
Order Nutrivein Organic Sea Moss on Amazon.
2. Powered by Naturals

This is an organic superfood blend that is also vegan-friendly.
It contains bladderwrack and burdock root capsules.
The Irish sea moss blend is fortified with iodine, zinc, iron, sulfur, calcium, potassium, and silica to help boost your overall health.
In addition, the minerals and active ingredients boost digestion and bone health and help manage thyroid conditions.
What you will love about it
It's an Amazon's Choice product.
It's also manufactured in an FDA-certified facility.
The product can help with weight loss management.
The supplement provides better sleep.
In addition, it helps clear your lungs.
The capsules are a great energy booster.
What you may not like
It can cause headaches, nausea, and stomach sores.
It can also be ineffective.
OrderPower by Naturals Sea Moss on Amazon.
3. Viva Nutra Regeneration Organic Irish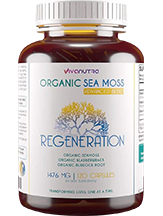 Chances are, you believe that nature plays a significant role in improving your overall health. If that is the case, Viva Nutra is suitable for you.
It contains 100% organic products, which scientists have backed as safe for human consumption. Therefore, it will not harm you.
Also, it contains compounds that are rich in minerals and vitamins. These nutrients will improve your immunity and overall health.
Viva Nutra comes in powder form, gel, or capsules.
The most common type is the potent tablets.
What you will love about it
It provides a great energy boost.
The product also improves skin health.
It can help manage allergy symptoms.
What you may not like
It contains rice flour as a filler.
The product can also be ineffective.
4.      Infinite Age
When choosing organic sea moss supplements, you may be tempted to go for a variant with multiple ingredients.
This could be the case if you believe that the additional ingredients help synthesize sea moss.
Infinite Age can be the best product for you.
Besides the sea moss, Infinite Age adds bladderwrack and burdock root. These ingredients are known to improve the synthesis of sea moss, making it easy to absorb.
What you will love about it
It is suitable for all users. In addition, it's vegan-friendly.
It also improves gut and thyroid health.
The product can boost immunity.
It provides an energy jolt.
This supplement can help clear your sinuses.
Increase in mental clarity.
Better appetite management.
What you may not like
Dizziness
It may have no impact.
It can also cause stomach cramps.
5. Double Wood
Double Wood is the exact opposite of Infinite Age. It is for people who prefer organic sea moss products that do not contain any additional ingredients.
Double Wood contains pure sea moss, with a negligible trace of cellulose (mainly from the capsule). It is the purest form of organic sea moss on the market.
It improves immunity, thyroid function, digestion, and heart health.
What you will love about it
It has a high amount of sea moss per serving, thus having great value for money.
It also helps manage joint aches.
The product makes your nails and hair healthier.
The supplement provides the same energy as coffee.
What you may not like
It can inflame skin conditions.
The product can also be ineffective.
The supplement can affect your mood.
Headache, nausea and dizziness.
6. Nurture Nutri Organics
If you prefer an organic sea moss that can help you acquire elements you naturally lack, then Nurture Nutri is the suitable product for you.
It has a combination of organic Irish moss powder, organic bladderwrack, and organic burdock root powder.
Collectively, those ingredients increase the absorption of sea moss. Also, they play a critical role in maintaining the health of your heart, gut, and thyroid.
Additionally, it increases the body's energy level because it contains iron traces.
What you will love about it
It's an effective energy booster.
The product can also enable better sleeping patterns.
Clears your respiratory system within a few days.
What you may not like
The product has some quality control issues, such as not having a scoop.
Order Nurture Nutri from Amazon.
7.      Maju Organic Sea Moss
If you are looking for a brand that delivers on its promises, then Maju organic sea moss is the product for you.
This is because it is made up of components that serve specific functions.
For instance, it contains a respectable level of black pepper, which increases the bioavailability of other ingredients in the product.
It also increases the body's ability to absorb other nutrients.
What you will love about it
It provides great energy.
It also helps with gastrointestinal issues.
Any major side effects can be avoided if you hydrate.
You can use it to help manage your blood pressure.
The product also boosts skin and hair health.
What you may not like
It's expensive.
It can also worsen migraines.
Nausea.
Order Maju Organic Sea Moss on Amazon.
Conclusion
Organic sea moss has many health benefits.
In addition to boosting immunity and gut health, sea moss can boost your fertility too. It is also repeatedly stated to be a great energy source for daily activities.
The brands listed above have different advantages. For instance, Double Wood has the purest form, and VivaNutra has the highest concentration.
Some of these brands contain soy, so pregnant and lactating women should avoid them.
[related_posts_by_tax posts_per_page="4"]