Olly Extra Strength Melatonin Gummies are tart and tasty blackberry-flavored sleep aid gummies.
They contain an extra boost of melatonin which plays a significant role in sleep. Instead of 3 mg like the regular Olly Sleep Gummies, it has 5 mg.
Melatonin, a natural body hormone, regulates your body clock and helps you transition from wake and sleep.
You can have low melatonin because of genes, stress, mental illness, technology before bed, sleep environment, and diet.
Hey, before you continue reading, check this out: A new proven way to lose up to 22 pounds (10kgs) in just 6 weeks without starvation or exercising for hours – click here to see it
The extra melatonin boost from these gummies can help induce sleep. However, they are not a magic chew, especially if you have chronic insomnia or an underlying condition.
How Olly Extra Strength Melatonin Gummies Work
They contain a compelling blend of active ingredients to regulate a healthy sleep cycle.
One of the ingredients includes a generous 5mg of Melatonin to provide restful deep sleep. It is paired with L-Theanine and botanicals, which help you be calm and relaxed.
It is what you need for non-habit-forming and safe support.
Make sure that you chew two gummies daily, 30 minutes before bed. It would help if you chewed them thoroughly before swallowing.
You do not need to take them with food or water. However, you must never exceed the prescribed use.
Olly Extra Strength Melatonin Gummies Ingredients
Some of the ingredients present in the sleep supplement include:
1. Melatonin
These naturally produced sleep hormones help you fall asleep faster and stay asleep longer.
2. L-Theanine
This ingredient is an amino acid that encourages calmness. Therefore, you can hush the voices in your head and drift off to sleep faster
3. Botanicals
The Chamomile, Passionflower, and Lemon Balm flowers have been used for a long time to help relax and soothe.
You can call it Flower Power.
4. Blackberry and Mint
The blissful blackberry and fresh hint of mint give the supplement a natural taste.
Who cannot use Olly Extra Strength Melatonin Gummies
Like other sleep gummies, they are generally safe when used conservatively.
Nonetheless, some people are recommended to talk to their doctor before taking them.
These people include;
Pregnant or nursing mothers
Those with epilepsy
People with type one diabetes or autoimmune disease
And those on blood thinners or blood pressure medication
Olly Extra Strength Melatonin Gummies Side Effects
The extra boost of Melatonin may cause drowsiness or dizziness.
Therefore, you must refrain from engaging in any activity that requires alertness, like driving or operating machinery after consuming them.
Other side effects include headaches, daytime sleepiness, grogginess in the morning, and irritability.
Olly Extra Strength Melatonin Gummies Reviews
Olly Extra Strength Melatonin Gummies have an excellent rating of 4.5 stars out of 5 on Amazon.
Some of the positive reviews include;
It gets you to fall into a deep, restful sleep.
Effects are felt within minutes.
You do not wake up groggy in the morning.
They take the edge off to calm your mind so you can fall asleep and stay asleep.
Great taste.
They are a natural product.
Some of the negative reviews include;
Bitter taste
Melts into one big clump, especially during the Summer season.
They may cause bizarre dreams and nightmares.
It makes you drowsy and nauseous.
It causes sweats, paranoia, stomach pains, and headaches.
Do not work consistently.
You can buy these sleep gummies from the official Olly website for only $15.99. If you shop from the website, you get fast shipping at a flat rate of $ 6.99.
Order Olly Extra Strength Melatonin Gummies on Amazon
Olly Extra Strength Melatonin Gummies Alternatives
1. Hilo Melatonin Sleep Gummies
These delicious gummies contain the proper ingredients to help you sleep. They also help to restore your sore and tired muscles.
Further, they are nutrient-dense as they contain 4 mg of Melatonin, the sleep hormone, and Chamomile.
As discussed, Melatonin helps you sleep easily and wake up feeling rejuvenated and energized.
On the other hand, Chamomile helps to calm your mind.
You need to take two HILO gummies every night before sleep.
There are also HILO gummies that are vegan and gluten-free while tasting naturally delicious.
Order Hilo Melatonin Sleep Gummies on Amazon
2. Nutrachamps Melatonin gummies
These chewable gummies are another sleep supplement to help you fall into deep sleep faster. You will also wake up rested and refreshed.
They are gentle, effective, and tasty because of their natural berry flavor. Additionally, they are practical, easy, and an excellent replacement for sleeping pills.
Notably,  NutraChamps Melatonin pectin (plant-based) gummies are perfect for those looking for a green and clean way to control their sleep cycle.
They do not have gluten, gelatin, soy, eggs, animal products, or dairy. They're also Non-GMO, paleo, and celiac friendly too!
Essentially, all NutraChamps supplements are of the highest quality manufacture. They're also lab tested to guarantee the purest, safest, highest quality products.
Order Nutrachamps Melatonin gummies for Adults on Amazon
3. Vitafusion Max Strength Melatonin Gummy Supplements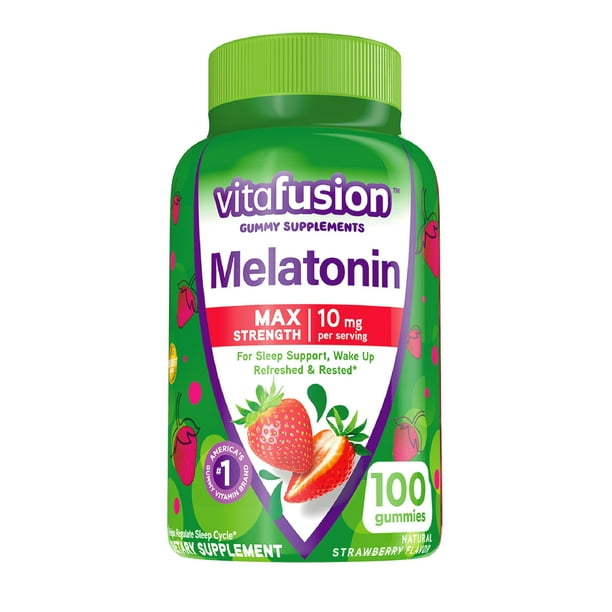 It is another dietary supplement that is designed for sleep support for adults. It ensures that you wake up feeling rested and rejuvenated.
These sleep gummies provide 10 mg of Melatonin per serving. Consequently, helping with your sleep cycle and jet lag.
They also taste great and conveniently provide an alternative to traditional hard-to-swallow pills.
It is because of a natural strawberry flavor that makes taking this sleep supplement taste all that much better.
In addition, they do not contain any gluten, artificial flavors or sweeteners, dairy, high fructose corn syrup, or synthetic FD&C dyes
However, this product may melt if exposed to heat or sunlight. Therefore, you are expected to be available during the product delivery.
Order Vitafusion max strength melatonin gummy supplements on Amazon
Conclusion
Olly Extra Strength Melatonin Gummies are excellent sleep supplements if you are experiencing sleepless nights.
However, ensure that you talk to your doctor fast before reaching for any bottle of sleep gummies.
It is because they may offer short-term help and mask underlying issues. Consequently, posing potential health risks and so should not be taken long-term.