Genius consciousness is deemed a top nootropic supplement in the market right now. It has been making rounds in the market.
This product differs from most nootropics out there. The reason is you can sip it all through the day. This means you can control the dosage and timing better.
This is the ideal choice if you're looking to try a fast-acting nootropic to sip in the morning to get your day going.
This product has several fascinating talking points.
Is Genius Consciousness a Drinkable Nootropic?
Genius consciousness is an all-natural powdered drink mix designed to enhance high-performance thinking.
It is made using premium trademarked and certified ingredients that boost concentration, enhance focus and improve memory.
The Genius Brand sells Consciousness as "a super nootropic awakening formula".
This product is claimed to improve creativity, enhance faster thinking, and apt brain growth. It also contains ingredients that aid in cognitive development.
Ingredients Analysis of Genius Consciousness
Genius consciousness is made using 10 science-backed brain-boosting components. Five of these ingredients are trademarked.
The manufacturers are very transparent about the ingredients that make up this product and the amounts therein.
However, the workability of this product remains subjective.
As experts say, product results are never typical. Here's an analysis of the ingredients to help you gauge whether the product will work for you.
1. Acetyl L-Carnitine
Acetyl L-Carnitine is an amino acid. It is a booster supplement that improves memory and mood.
Genius Consciousness has only 500 mg of ALCAR, therefore cannot impact cognitive performance in any visible manner.
2. Lion's Mane
Lion's Mane is a medicinal natural plant.
It is edible. The Japanese and Chinese medicinal and culinary products have been used for centuries.
Clinical research has proven over time that Lion's Mane also contains molecules that restore brain cells by generating new cells.
3. Alpha GPC
Alpha GPC is a choline compound that is naturally generated in the brain. This compound levels up acetylcholine levels in the brain.
Acetylcholine is one essential neurotransmitter that enhances learning and thinking skills when elevated.
4. L-Tyrosine
L-Tyrosine is an amino acid that occurs naturally in the body.
If used as a supplement, it improves stress and mood response. L-Tyrosine also acts as a precursor for the three key neurotransmitters: norepinephrine, adrenaline, and dopamine.
5. Dynamine/ Methyliberine
Dynamine, also known as Methyliberine, is a potent fast-acting stimulant commonly used to enhance alertness among athletes.
Its activeness lasts longer than a standard stimulant for up to four hours.
6. Neurofactor
This is a herbal natural ingredient found in a whole Coffee Arabica fruit.
Besides, scientific studies show that Neurofactor has distinctive polyphenol profiles that facilitate the production of BNDF.
BNDF (Brain Derived Neurotropic Factor) is a crucial neuroprotein that directly impacts general brain health.
7. Phosphatidylserine
Phosphatidylserine is a principal structural constituent of the brain cell membrane.
The body needs this component to replicate new cells. Phosphatidylserine alerts the brain to get rid of its dead cells.
What's more, it plays a stress-relieving role that benefits individuals in demanding work environments.
8. Panax Notoginseng & Astralagus Membranaceus
Panax is active Chinese ginseng and more active than Astralagus, the American ginseng.
Additionally, Astralagus Membranaceus boosts natural immunity and has no notable influence on cognitive functions.
These two components act as Genius Consciousness fillers.
9. Huperzine A
Huperzine A is a crucial plant extract.
This natural ingredient enhances acetylcholine effects by blocking enzyme AChE, which often lessens excess acetylcholine.
Consequently, it enhances a sharper focus and fast thinking. It also promotes better memory retention.
Does Genius Consciousness Work?
Does this supplement work?
This product undoubtedly ensures a higher focus and enhanced verbal fluency and memory.
Its massive Alpha GPC dose will handle instant cognitive functions.
Genius Consciousness provides 600 mg of Alpha GPC daily; therefore, this supplement guarantees drastic cognitive functionality improvement.
The Huperzine A of the Genius Consciousness supplement will increase your focus and memory retention capacity.
However, if you're looking for a supplement for a long-lasting cognitive boost, then Genius Consciousness is not the ideal nootropic.
Even though this product contains varying ingredients that guarantee memory and focus boost, note that Huperzine A needs cycling. Therefore, you may not benefit much from these contents.
All things considered, this supplement is an ideal nootropic if you're looking for short-term brain-boosting supplements.
Side Effects of Genius Consciousness
Unfortunately, this product has some side effects.
You may start experiencing side effects like nervousness, dry mouth, and nausea when taken in large quantities over a long period.
The above-listed ingredients are all natural and 100% certified herbal compounds deemed safe for human consumption.
However, the company still recommends consulting certified physicians before using this nootropic.
Benefits and Warnings
A performance surge is most likely to occur within 10 minutes of taking the Genius Consciousness supplement.
The nootropic will help you retain your focus and boost your thinking ability. However, unlike caffeine, Genius Consciousness does not create a slump within a few hours of taking it.
Additionally, the dopamine and cholinergic contents of Genius Consciousness ensure its impacts last much longer compared to caffeine.
Genius Consciousness works. Unless you have built up aversions to any of its contents, there's no reason it shouldn't work for you.
Genius Consciousness Reviews
The product has a 4.2-star rating on Amazon.
Positive reviews state:
It mixes easily in water.
The product makes it easy to achieve focus.
It also boosts activity when paired with ADHD medication.
It prevents fatigue.
The supplement also boosts energy, whereas caffeine causes a crash.
It enhances problem-solving.
Moreover, the supplement was a great alternative to Adderall.
The negative reviews state:
It can cause drowsiness.
Users who have been on nootropics may experience no difference.
It remained ineffective.
Insomnia
The product can also cause stomach upsets.
Vomiting
The supplement clumps.
Order Genius Consciousness on Amazon
Alternatives to Genius Consciousness
1.
NeuroFuel Brain Supplement & Focus Supplement
This is a vegetarian-friendly capsule that ensures you remain focused for 14 hours.
Additionally, it provides motivation and alertness throughout your day.
Moreover, it helps with memory retention.
Order Neurofuel Brain Supplement on Amazon.
2.
Lions Mane Brain and Focus Supplements
As mentioned earlier, Lion's Mane helps boost cognitive function.
It is made from Lions Mane mushroom, which helps with memory. In addition, it helps with brain immunity.
The product is also GMO-free, gluten-free, and vegan-friendly.
Order Lions Mane Brain and Focus Supplements.
3. Qualia Mind Nootropics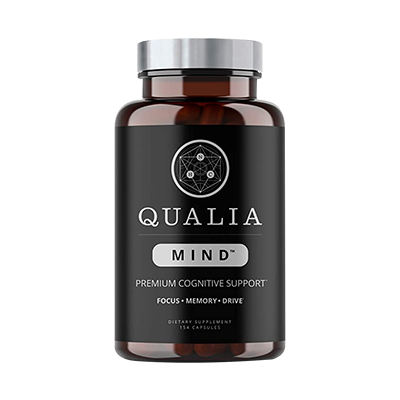 This product helps peak brain function.
It also provides enhanced cognition without the worry of crashes.
However, it's not recommended for people under the age of 18.
Order Qualia Mind Nootropics on Amazon.
Conclusion
Genius Consciousness is a purely natural nootropic supplement that quickly enhances your focus and heightens your concentration.
The nootropic supplement also guarantees improvements in brain performance, mental capacity, and apt creativity, mood, and energy.
What's more, it can reduce brain fog. This is ideal for you if you want to break the caffeine cycle.
For the best results, take the recommended dose of this supplement on an empty stomach in the morning.
You can also take it as a pre-workout 30 minutes before commencing the workout session.
It is also available on Amazon for purchase at friendly prices. This product is ideal for individuals who are just beginning to enhance their cognitive abilities.
Note that this product's contents have lower potency than other products on the market. Therefore, it may not do much for more proficient nootropic users.
" width="20″ height="20″>
[related_posts_by_tax posts_per_page="4"]