Kids protein shakes are a great way of adding proteins to your child's diet without fighting them over their greens intake that they do not like.
Remember that some kids are notoriously picky eaters, and eating what does not excite their appearance or taste buds will be challenging.
A balanced diet increases kids' health, whereas proteins work well for muscle and bone growth.
Kids love to swim in sweet stuff that can be harmful, but protein shakes add natural sweetness to their diet, helping them curb that sugar craving and still add nutrition to their bodies.
Here is a list of some of the best kids protein shakes.
1. Orgain Organic Kids Protein Nutritional Shake
Get your kiddo this on-the-go grass-fed protein shake that is a good source of vitamins C, D, E, B6, and B12, calcium, biotin, and many other nutrients.
Being gluten-free, vegetarian-friendly, and free of additives, this nutritious shake supports kids' growth and health.
Perfect for picky eaters with its different flavors and convenient for a quick snack.
However, it is not plant-based or vegan.
 Order Orgain Organic Kids Protein Nutritional Shake on Amazon.
2. Nestle Boost Kids Essentials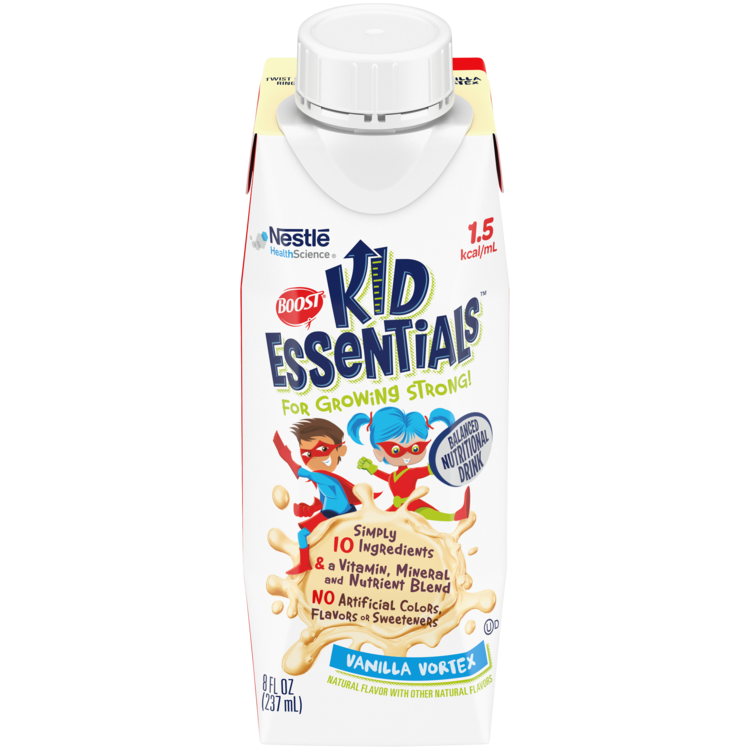 Amazon's choice in dietary fiber nutritional supplements by BOOST.
Specialized to help kids grow strong with more calories, especially for picky eaters who need more calorie intake and proteins for strong muscles.
It comes in 3 kid-approved flavors that make it easy for their taste buds to tolerate and keep wanting more.
Its drawback is it is not for individuals with galactosemia.
Order Nestle Boost Kids Essentials on Amazon.
3. Amazing Grass Kidz Superfood
This nutritious-filled shake is among the best choices if you want to add probiotics to your kids' diet.
Essential amino acids are present to build a healthy tummy and immunity for your little one.
Additionally, this kid's supplement will enhance your child's mental development.
One scoop is half a cup of leafy greens and 2g of sugar, sweetened with stevia.
On the other hand, your child may not like the shake's strong earthy taste.
Order Amazing Grass Kidz Superfood on Amazon.
4. PediaSure SideKicks Kids Protein Shakes
Having a 4.8 / 5 rate on Amazon shows that this product is kid-approved, and parents see its benefits work.
Complete with balanced nutrition to help kids catch up to growth and fill the nutrient gap. 10g of protein in every shake.
The shake helps build muscles, supports immune, brain, and eye health, and has 27 vitamins and minerals.
However, it is more expensive than other protein shakes.
Order PediaSure Sidekicks Protein Shakes on Amazon.
5. Premier Protein Shake
Bestseller in sports nutrition ready-to-drink protein on Amazon with an approved delicious taste.
It has 24 vitamins and minerals for a healthy immune system and bones, so for an active and athletic kid, this is an excellent protein shake.
With 11 delicious flavors, kids have a variety of smooth and creamy flavors to try out.
You may not like the clumps and chunks you can find in the drink.
Order Premier Protein Shake on Amazon.
6. Superfoods for Kids Nutritional Shake
A vegan plant-based protein shake that contains fiber gives your kids the nutrition they require to grow and develop muscles and a healthy immune system.
It also contains organic probiotics and digestive enzymes to support proper digestion and nutrient absorption.
The shake is best for kids 4 years and older and is not celiac friendly.
Order Superfoods for Kids Nutritional Shake on Amazon.
7. GO! Pro Shakes Growing Healthy Minds and Bodies
It is equally important for kids to enjoy their nutritious drink the same way they enjoy candy and sweet stuff.
With this in mind, go pro shakes are rich in chocolate flavor with a milkshake taste even when it does not contain any added sugar or corn syrups.
It has a healthy balance of nutrients needed for growth, immune support, and muscle development for kids and teens.
However, the pro shake only comes in 2 flavors: chocolate and vanilla, which is not that big of a playing field for picky eaters.
Order GO! Pro Shakes on Amazon.
8. Quest Nutrition Protein Powder
Quest protein powder uses a mix of complete dairy-based protein isolates to provide the body with all nine amino acids it needs.
Packed with 22g of protein and 1g of sugar per serving, it helps kids get the nutrients they need to grow and improve their muscles.
However, the product contains sucralose and stevia as artificial sweeteners.
Order Quest Nutrition Protein Powder on Amazon.
9. Healthy Heights Grow Daily
Amazon's choice in protein drinks by healthy height, this whey protein is great for lean children, active kids, and picky eaters.
The patent shake formula is developed by pediatricians and contains the right combinations of proteins to help grow and fill in the missing diet.
Order Healthy Heights Grow Daily on Amazon.
10. Warrior Kid Chocolate Protein Shake
This warrior kid protein shake is an excellent protein shake blended with vitamins, electrolytes, and probiotics for growth and muscle recovery.
A healthy and delicious drink that supports the development and growth of the body with monk fruit extract as the sweetener.
Order Warrior Kid Chocolate Protein Shake on Amazon.
How to choose the Best Kids Protein Shakes for Fast Growth
Kids' health is paramount regarding their intake and nutritional options.
So choosing a good protein shake should be equally important because one wrong product and the kid's health can be affected.
Here is a list of things to consider when choosing a good protein shake.
1. Ingredients
Your preferred nutritional intake for your kids should be indicated on the ingredients list with percentages and amounts per serving listed.
Similarly, the ingredients you would not prefer your child to take should be well indicated on the product.
The ingredients should be hand in hand with the product's benefits. Low in fat, carbs, and calories is always a good option.
2. Side Effects
Zero side effects should be your go-to product for your child. The fewer or zero side effects, the better the product.
3. Reviews
What people comment about a product is essential in determining if a product is worth trying or not.
For this reason, online reviews on retail platforms like Amazon shed light on kids protein shakes from other users.
4. Benefits
Benefits come in when the product works and more people approve it on online platforms and Qs & As.
The more positive the rates, the better the product and its benefits. Likewise, for kids protein shakes, fast growth, and nutritional benefits are what you are looking for.
Alternatives to Kids Protein Shakes for Fast Growth
1. Nature's Way Kids Growing Bones & Muscles Gummies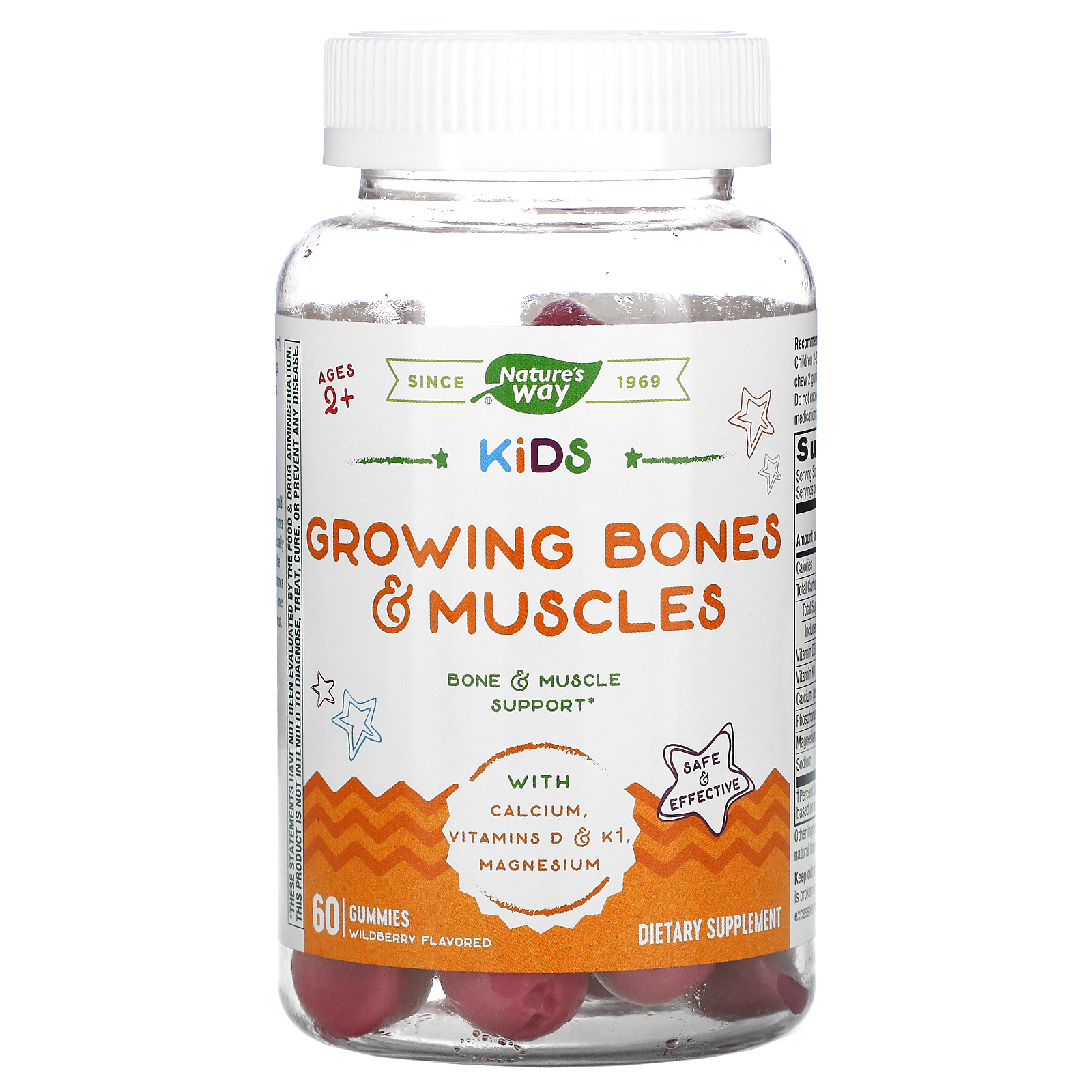 Packed with calcium, vitamins D3 & K1, and magnesium, these gummies help kids develop healthy bones and muscles.
Gummies are sweet and chewy, which makes them one of the best forms of intake of supplements for kids.
These wildberry-flavored gummies are free of peanuts, dairy, soy, eggs, and gluten.
This product is an excellent alternative if you want to keep it simple with less time-consuming to prepare.
Order Nature's Way Kids Gummies on Amazon.
2. Parker Natural Chocolate Superfood Powder Smoothie for Kids
Smoothies will work well if you want kids to drink dietary supplements without added sugar.
This complete chocolate superfood powder smoothie is an all-natural and organic supplement that helps kids grow and improve their nutrition.
You can blend it with fruits to make the smoothies tastier and more vitamin-filled treats.
Order Parker Natural Chocolate Superfood for Kids on Amazon.
3. NuBest Tall Kids
Flavored chewable multivitamin tablets are like candy to kids, prompting them to take supplements without getting bored of the taste.
It supports growth and development for kids, overall immune system health, and bone growth.
NuBest Tall Kids is also an excellent alternative to kids protein shakes if you want to switch it up to tablets with no preparation time.
Order Nubest Tall Kids on Amazon.
Conclusion
Kids Protein Shakes are a recommended health drink for kids' growth and overall health and spice up their taste buds.
In summary, they help to add nutrition to kids' bodies that may be missing from their diet.
However, not all nutritional drinks give the benefits you expect, so be keen on the ingredients and online reviews on each shake.
[related_posts_by_tax posts_per_page="4"]