Blessed Protein Powder is an all-natural plant-based supplement that helps users gain muscle mass.
In addition, it helps with lean muscle mass growth and body fat loss, especially when the user is consistent with a training program.
Moreover, it is produced with 100% raw ingredients making it vegan-friendly.
Who makes Blessed Protein Powder
EHP labs manufactured this product.
This company was founded in 2012 in Salt Lake City (Utah).
It has a good reputation and has never reported any bad press.
How Blessed Protein Powder Works
Mix one scoop with 240ml of chilled water or almond milk in a shaker bottle.
Then, you can take it at any time of the day, either on its own or mixed with smoothies, yogurt, coffee, or juices.
Ingredients in Blessed Protein Powder
This product contains high levels of fats.
It comprises over 9 natural ingredients: Stevia leaves extract, Sunflower creamer, Vegetable gums, Psyllium Seed Powder, salt, Inulin Fiber, Raw Pea Protein Isolate, Natural Flavor, and lastly, Cocoa.
Further explained below are some of these ingredients:
1. Stevia leaves extract
This is a natural sweetener and sugar substitute.
It contains Rebaudioside A and M, a component of the leaf that is up to 200 times sweeter than regular sugar.
This component allows minimal doses that enhance flavor without impacting the calorie content.
Consequently, this naturally derived sweetener allows this supplement to be the premier-tasting pea-based protein powder.
2. Sunflower creamer
This is majorly made out of sunflower oil which contributes to the fat in the protein powder.
It is also made from Maltodextrin and d-Alpha Tocopherols.
3. Vegetable Gums
These vegetable gums include Gum Acacia and Xanthan Gum. They are food additives that make the texture of the protein shake thick and creamy when mixed with a beverage.
4. Raw Pea Protein Isolate
This ingredient particularly increases absorption and digestion.
Consequently, this sprouted pea protein isolate discards the outer shell of the pea, which is the most significant contributor to bloating and stomach discomfort.
Nonetheless, it is a vegan-friendly source of protein that is also perfect for individuals with dairy allergies or lactose intolerance.
Blessed Protein Powder Benefits
Some of its benefits include:
First, it is vegan-friendly.
It is used for lean muscle development and enhancing muscle growth.
It also helps in weight management.
The powder has various flavors.
It enables the body control appetite and cravings.
It is a meal replacement supplement.
The gluten-free product means people with gluten sensitivity can comfortably use it.
It is dairy-free.
It also has zero artificial additives.
The powder improves digestion.
It keeps you full for a long without experiencing bloating.
No nasty ingredients as it only contain all raw ingredients that are vegan friendly.
The product is laboratory tested for quality assurance which ensures the product is of high quality.
It is non-GMO.
It is easy to consume.
Finally, it does not contain heavy metals.
Shortfalls of Blessed Protein Powder
Some of its shortfalls:
It has a chalky texture and a bit of an aftertaste.
The powder may not mix well.
Also, it is costly.
Side effects of Blessed Protein Powder
Not many reviewers have reported side effects.
However, it varies with the person. Some of these side effects are:
Bloating.
Diarrhea
Gas.
And stomach discomfort.
Blessed Protein Powder Reviews
It rates 4.0 out of 5 stars from customer reviews on Amazon.
Remarkably, most reviews are positive while some are negative.
Some of the positive reviews were:
First, it is a good protein powder overall.
It is also one of the best vegan protein powders.
The product has a lot of flavor varieties.
Finally, it tastes incredible.
Some of the negative reviews are:
The taste is chalky.
The product does not dissolve properly.
It tastes vile.
You don't get used to it quickly.
Also, most people complain the product comes half-full in its container, yet it is costly.
Order Blessed Protein Powder on Amazon.
Blessed Protein Powder Alternatives
1. KOS Vegan Protein Powder
Similarly to our supplement, this product contains over 16 organic ingredients.
They include Organic Pea Protein, Organic Pumpkin Seed Protein, Organic Chia Seed, Organic Stevia, Natural Plant-Based Fruit, and Vegetable Blend.
One of the benefits of this product is that nearly every ingredient is certified organic. It contains no gluten, dairy, soy, hormones, artificial sweeteners, colors, and GMOs.
The product also promotes weight management because the soluble fiber in plant protein gives you that "full" feeling for a more extended period.
Rating: 4.3 stars/5.
Order KOS Vegan Protein Powder on Amazon.
2. Orgain Organic Vegan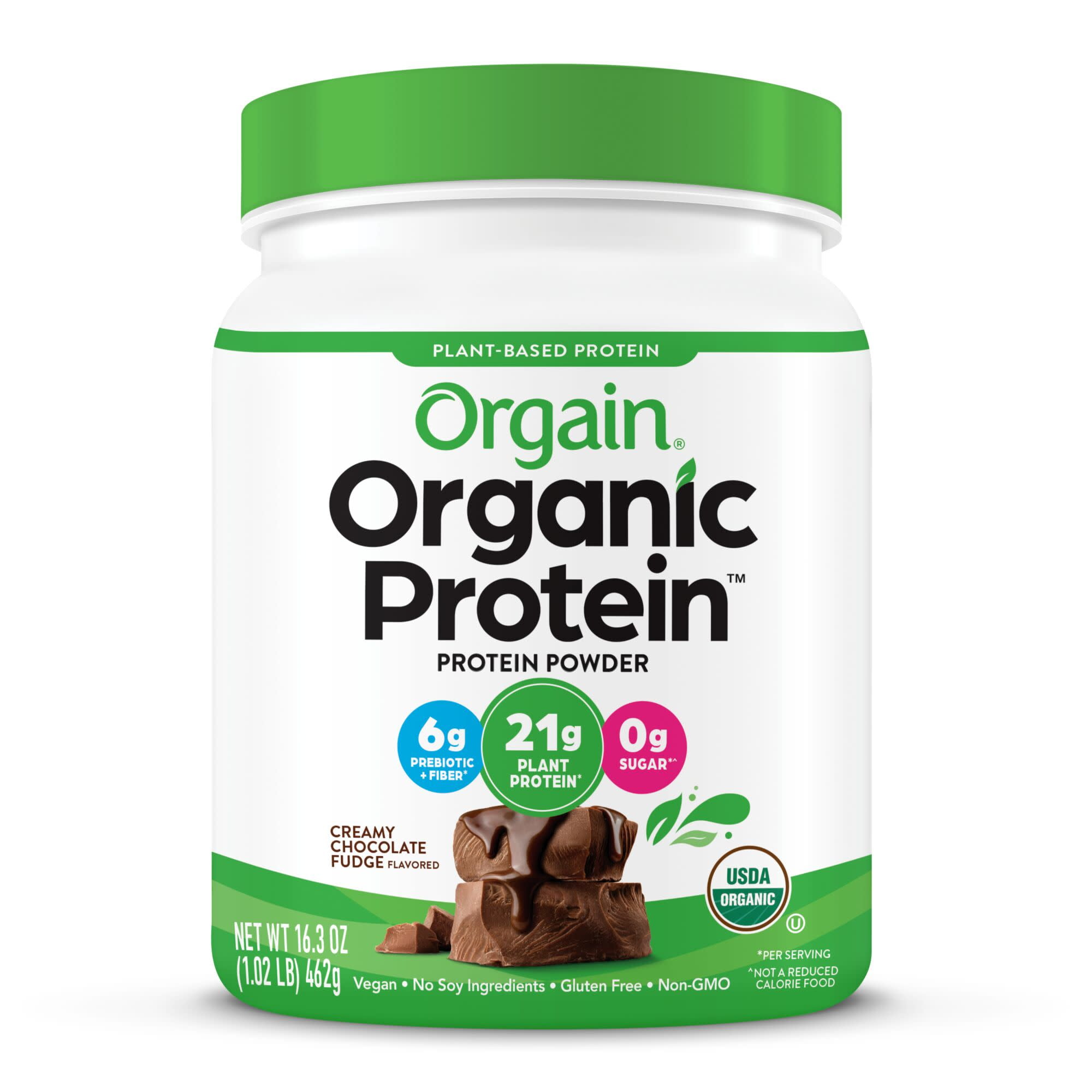 Orgain Organic Protein Blend contains several organic nutrients.
You can mix this powder with beverages. In addition, you can mix it with a brownie, cookie, or cake batter and bake.
Some of its benefits are that it is suitable for healthy, on-the-go nutrition for men, women, and kids.
Moreover, it is great for meal replacement, smoothie boosters, muscle recovery, and pre-or post-workouts.
Similarly to Blessed Protein Powder, it is gluten-free, dairy-free, non-GMO, and has no artificial ingredients.
Rating: 4.6 out of 5 stars.
Order Orgain Organic Vegan on Amazon.
3. EarthChimp Protein Powder
This protein powder's ingredients contain an organic plant protein blend that is; pea, pumpkin, coconut & sunflower, and an Organic Fruit Blend that is; date, banana & strawberry.
Additionally, it has Chicory Root Fiber and Natural Vegan Flavors.
Finally, it also contains Superfood Blend for maximum nutritional value.
The benefits of Earth Chimp protein powder are.
It contains multiple probiotics.
It is organic.
The powder contains digestive enzymes.
Finally, it contains no added sugar, erythritol, salt, dairy, gluten, soya, or GMO.
It has a 4.6 out of 5 rating on Amazon.
Who cannot use Blessed Protein Powder
Pregnant women, children under 15 years, and people with allergies cannot use this product.
It is because it is manufactured by the same equipment that also processes peanuts and other allergens.
Conclusion
In conclusion, most reviews suggest Blessed Protein Powder is effective and of good quality.
Additionally, most reviewers like the fact that it is an all-natural supplement.
Indeed,  it has helped most users in muscle growth and development, weight management, controlling cravings, and improving digestion.
[related_posts_by_tax posts_per_page="4"]