Well, Night Shred reviews show that the supplement claims to help you burn fat while helping you achieve quality and quantity sleep simultaneously.
It claims to improve sleep quality by giving you a sense of relaxation to get into Rapid Eye Movement (REM).
REM is a sleeping phase where your eyes move randomly and rapidly without sending any visual feedback to the brain.
Consequently, your body achieves a low muscle tone, and dreaming happens. As a result, you wake up refreshed.
Additionally, it enhances metabolism, so your body continues to burn fat even when sleeping.
It also promotes weight loss by curbing late-night cravings and stress eating.
Further, it improves muscle development and boosts your overall strength if you work out.
You should take two capsules every night to maximize fat-burning effects while priming your body for restful and quality sleep.
This combination of sleep aid and the fat burner is gluten-free, additives-free, and vegan-friendly.
This article takes a dive into everything regarding Night Shred and particularly the Night Shred reviews from its users to determine whether it's legit or a scam.
According to the Frontiers in Neuroendocrinology Journal study, some of the product's critical ingredients, like exogenous melatonin, help increase total sleep length.
Even though it has little effect on sleep efficiency, it is clinically used to treat people with sleep conditions.
Who Manufactures Night Shred?
Inno Supps manufactured Night Shred in 2019 by Kevin Gunderson.
The company is based in Henderson, Nevada, and it makes supplements with proper doses of clinically and patented ingredients.
Before Night Shred was officially launched as a brand, Inno Supps partnered with expert teams of scientists and doctors to create high-quality supplements with excellent taste.
Night Shred is the brand's flagship product.
Not only is it sold on the Inno Supps official website, but the product is also available in other outlets like Amazon and GNC.
Night Shred contains essential ingredients such as Valerian Root, Passionflower, Chamomile, and Gama Amino Butyric Acid  (GABA).
All these ingredients work together to ensure you stay well-rested and shred a considerable portion of nighttime fat.
However, Inno Supps is not accredited by the Better Business Bureau and has an F rating.
How Night Shred Works
The product has ingredients that relax the body to induce REM and regulate hormone levels, body temperature, and blood pressure.
Additionally, it contains ingredients that regulate morning and late-night hunger, plus burn fat through thermogenesis.
The product also claims to boost metabolism even during the wee hours.
Further, it triggers the production of growth hormones which causes the development of lean muscle that burns fat too.
Finally, it claims to reduce post-workout soreness and cortisol levels which influence stress and anxiety, and increase overnight muscle recovery.
Night Shred Ingredients
1. Magnesium
The product contains about 48% of the Daily Value (DV) of magnesium per serving.
Lower magnesium levels make vitamin D ineffective and increase your chances of cardiovascular disease.
However, the form of magnesium in the product is magnesium oxide which is not readily absorbable by the tissues and is used to treat constipation.
2. GABA
This is a brain-produced chemical that relaxes nerves and reduces anxiety.
Interestingly, your body is accustomed to the natural brain-produced GABA.
There's limited effectiveness and bioavailability as a supplement because of its substantial molecular structure.
This molecular structure makes it impossible for GABA to easily cut across the blood-brain boundary.
To boost your GABA levels, you should take natural nutrients and herbs like L-Theanine.
3. Passionflower
Passionflower is often used for insomnia and anxiety.
Despite limited research on its effectiveness, most people have no reports of side effects.
4. Chamomile
This tea is a relaxant for the mind and body. As a result, the supplement enhances your nighttime recovery complex, giving you a peaceful night's rest.
Moreover, it helps with digestive health, spasms, nausea, and diarrhea.
5. Ashwagandha
This ingredient lowers cortisol.
Moreover, the Ashwagandha smell enhances a person's strength, energy levels, and virility.
It is not mainly a natural sleep support but rather an antioxidant that speeds up metabolism, decreases inflammation, and burns fat.
6. Valerian
This is an effective sleep aid found in several other sleep supplements.
It has a mild hypnotic effect that helps you achieve deep and restful sleep.
There is limited evidence that it works as a fat burner or helps weight loss.
7. Conjugated Linoleic Acid (CLA)
CLA has been scientifically proven to help with obesity and weight loss because of its role in fat oxidation and breakdown.
In addition, animal studies have shown that it reduces body fat stores.
8. Grains Of Paradise
This ginger-related spice helps you break down fat, according to evidence.
Notably, rumors that indicate that ingredients used in Night Shred are underdosed may be true.
This is because the product only has 76 mg of this ingredient out of the total PM fat-burning complex formula.
9. 5-HTP
This is a great mood enhancer that boosts serotonin. As a result, it leaves you feeling happy and relaxed.
Notably, serotonin also becomes melatonin, consequently helping to improve restful sleep.
Unfortunately, Night Shred only contains 35.5 mg of this ingredient, yet the effective dose is 250-300mg.
10. L-Carnitine
This fat-burning ingredient enables the mitochondria to efficiently utilize the food.
11. Melatonin
Melatonin is a popular natural sleep hormone that keeps you deep asleep and boosts antioxidant activity.
Consequently, this protects the brain cells from harm and helps you get a restful and deep sleep.
The product contains 3 mg of Melatonin which is effective.
12. L-Tryptophan
This ingredient is a form of amino acid that converts to serotonin, which helps in sleep, mental wellness, and other crucial body functions.
Night Shred Pros
It helps improve sleep quality.
It suppresses junk food cravings.
Additionally, it helps burn fat at night.
Chances of getting side effects are low.
It uses natural ingredients.
Finally, it's also gluten and additives-free and vegan-friendly
Night Shred Cons
It can be pricey.
It may cause digestive issues.
Third, it is also not supported by clinical trials.
Is Night Shred safe for pregnant women?
Not much research is available on the product's safety for pregnant women.
However, consult your physician if you are pregnant or lactating before taking this supplement.
Night Shred Dosage
You should take one pill every night, at least 30 minutes before bed.
This ensures that you wake up feeling rested and energized. Furthermore, it ensures you burn fat while sleeping.
Finally, it curbs your appetite and suppresses your cravings, which ultimately helps you in your weight loss journey.
Night Shred Side Effects
The majority of the side effects are caused by melatonin, and they include the following:
Nausea
Headaches
Dizziness
Mild insomnia
Night Shred Reviews
Night Shred reviews on Amazon will help you determine whether it's a good enough supplement from the user's experience.
The positive reviews state:
It's a body fat reducer only.
There is no groggy feeling upon waking up.
Additionally, it makes you sleep soundly and deeply.
It gives more energy during the day.
It's a mood booster.
The product calms you.
It's easy to take.
It also has a return policy within 30 days if you buy through the official website.
Finally, it may act as a laxative.
The negative Night Shred reviews include:
If you stop taking the product, your body fat may return.
It's expensive.
It can cause nightmares on the first night.
There are claims that some positive reviews may be fluffed.
It doesn't work.
The supplement works better for sleep than weight loss.
It makes you sluggish after waking up.
Finally, It can cause headaches and dizziness.
It has a rating of 4.1 out of 5 on Amazon.
Night Shred Alternatives
1. Lean PM Nighttime Fat Burner
It contains 10 mg of Vitamin B6, 150 mg of Magnesium, 200 mg of L-Theanine, and 5 mg of Melatonin.
This combination makes it a great sleep aid and one of the most effective best nighttime fat burners.
If you combine it with a workout and a healthy diet, it increases its fat-burning ability.
It has a rating of 3.9 out of 5 on Amazon.
Order Lean PM Nighttime Fat Burner on Amazon.
2. Havasu Nutrition Nighttime Fat Burner Metabolism Booster
It contains similar ingredients as Night Shred, like melatonin, l-theanine, valerian root, and passionflower extract.
These ingredients help to regulate a healthy sleep cycle while burning fat in your sleep.
It has a rating of 3.8 out of 5 on Amazon.
Order Havasu Nutrition Nighttime Fat Burner Metabolism Booster on Amazon.
3. Mav Nutrition Night Time Fat Burner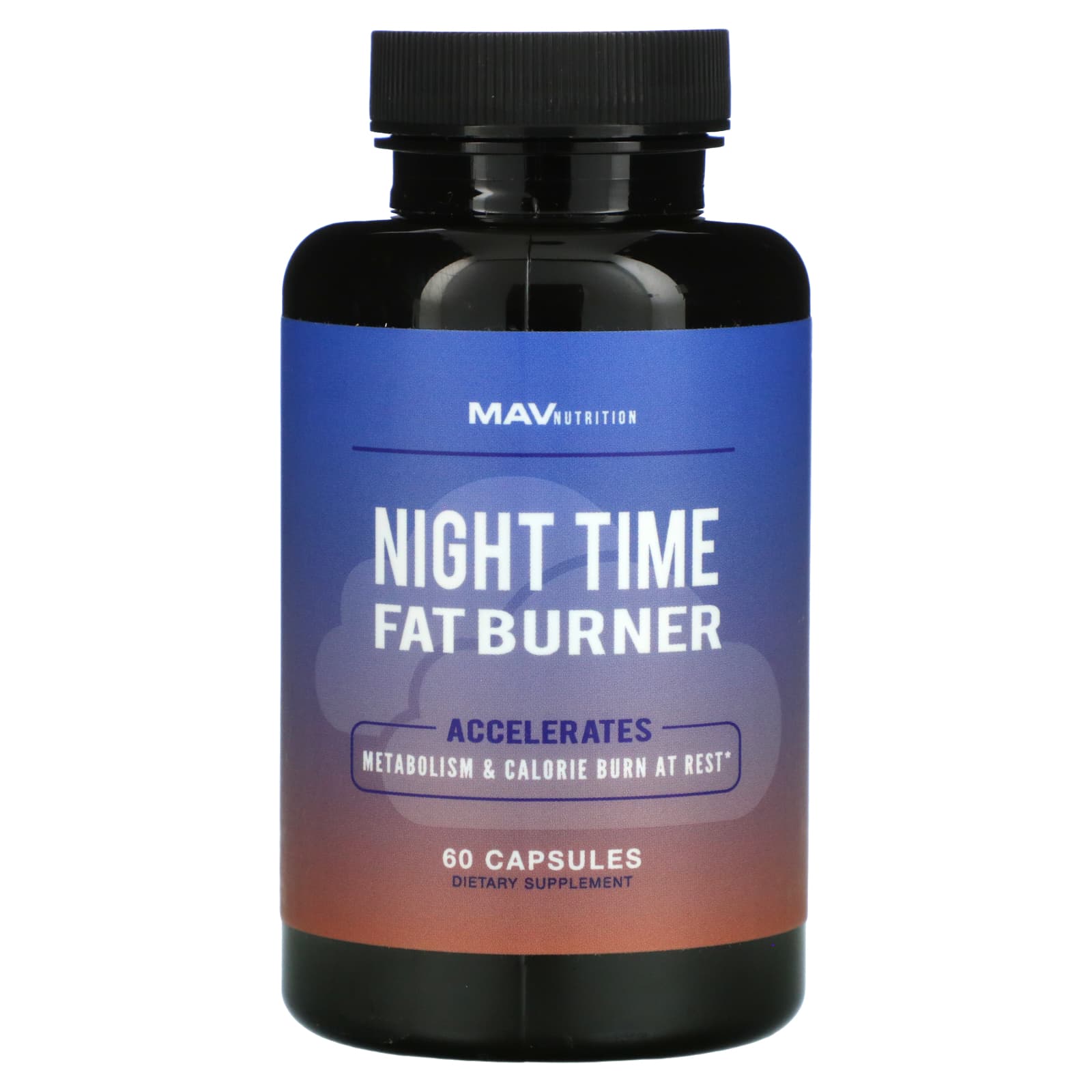 This product contains thermogenic ingredients that support metabolism and sleep aid ingredients like Melatonin to relax you to deep sleep.
Further, other herbal ingredients like Lemon Balm and Passionflower present in the product will help you burn fat and relax without any jitters or crashes.
It has a rating of 3.9 out of 5 on Amazon.
Order MavNutrition Nighttime Fat Burner on Amazon.
Conclusion
In conclusion, according to the Night Shred reviews, the product is a great sleep aid.
Its combination of natural ingredients like melatonin, Ashwagandha root, chamomile extract, and valerian root enhances quality sleep and reduces stress.
Nonetheless, little research proves that it helps you lose weight. You will have much more success losing weight with a healthy diet and exercise.
[related_posts_by_tax posts_per_page="4"]