Being overweight is not a laughing matter. It is normal to struggle to lose a few pounds. Fortunately, some supplements can make this journey easier. One of them is Lipo 6 Black.
But before you buy any product, here are some foods that can help you burn fat fast.
This article will tell you everything you need to know about Lipo 6 Black.
What Is Lipo 6 Black?
It is a fat burner supplement produced by Nutrex Research Inc. It is considered to be one of the fastest-acting products of its kind.
The product targets stored body fats. Additionally, it boosts your energy levels throughout the day.
It comes in a single capsule with a liquid formula. According to the manufacturer, this makes it easier for your body to process and absorb nutrients.
Burning fat in your body releases energy. For this reason, you may feel energized after taking it.
Nonetheless, it is not FDA-approved.
How To Take Lipo 6 Black?
The manufacturer recommends taking one capsule in the morning and one in the afternoon.
Ideally, take it before meals and not within four hours of bedtime to avoid sleeplessness due to the energy boost.
Take it with 8 to 10 ounces of water to increase the absorption.
How Does It Work?
It works by triggering thermogenesis and reducing your appetite. Consequently, your body burns fat at a fast rate. The Thermogenic process is what mainly breaks down your stored fat.
Secondly, it also promises to improve your focus and mood.
Lipo 6 Black Ingredients
Nutrex hides behind a proprietary blend. As a result, you do not see the exact content of each ingredient. Therefore it becomes hard for you to plan dietary-wise.
1. Caffeine Anhydrous
The stimulant makes your brain focus better and triggers thermogenic effects. In short, this gives your body a metabolic boost that burns fat to produce heat.
This additional energy also helps you maximize your workouts and other daily activities. In addition, it leads to more fat burning.
It achieves this by a process called lipolysis. Lyposis is the stimulation of the breaking down of adipose tissue.
2. Theobromine Anhydrous
It is in green tea leaves and coffee bean extract. So, contrary to caffeine, this ingredient is not involved directly in weight loss. Though it still aids in it.
Studies show that it could work as a nootropic. It increases your concentration and focus in the gym and at work.
3. Advantra Z Citrus Aurantium
It contains synephrine, which affects blood pressure and heart rate.
Advantra Z Citrus Aurantium is a blood flow booster. For this reason, you will have better physical endurance and burn more fat.
Though the side effects are questionable, you should avoid Aurantium if you have underlying heart health issues.
4. Yohimbine HCL
This ingredient not only helps you to better handle your appetite but cravings as well. It also helps you diet with a lower calorie intake.
It helps increase weight reduction by reducing food intake. Consequently causes your body to burn your fat supplies to produce energy.
5. Rauwolscine
In traditional African medicine, Rauwolscine is proven to lower blood pressure, resulting in more relaxed blood circulation.
The company states that this increases energy levels as the muscles receive more oxygen and nutrients.
Nevertheless, it is in very low dosage.
How Much Weight Can Lipo 6 Black Help You Lose?
Taking the prescribed three capsules a day for a week can help you lose between two and four kgs. However, you must supplement it with proper nutrition and exercise.
Potential Side Effects Of Lipo 6 Black
Some of its users complained of fatigue and soreness in the abdominal area. Most likely after the caffeine high ends.
Sometimes, people experience nausea, jitters, and dizziness due to the sudden wave of energy.
Customer Reviews
With an average rating of 4.3 out of 5 stars on Amazon, it is easy to tell that most customers had a positive experience.
Here are some of the things users liked about the product:
• It is an effective fat burner that works fast.
• It suppressed my appetite and gave me an energy boost.
Here is what they didn't like about the product:
• High amounts of caffeine that made me nauseous and jittery.
• It caused me to experience anxiety and panic.
Alternatives To Lipo 6 Black
1. Phen Aprin
It is a powerful weight loss supplement. That not only works by burning stored fat but also limiting fat production.
It is in tablet form and for daily consumption.
Phen Aprin accelerates metabolism and also boosts thermogenesis. It is the metabolic process in which your body burns calories to produce heat.
The energy will come from stored fat if you are on a low-calorie diet.
It has all-natural ingredients. Additionally, it's vegan-friendly.
Phen Aprin is a safe supplement. It has a few side effects, such as stomach upset and slight problems sleeping.
Order Phen Aprin on Amazon Now
2. Burn Xt
It is a popular fat burner supplement sold by  Jacked Factory. Burn Xt is in capsule form, which is also suitable for vegetarians due to having all-natural ingredients.
Therefore, the dose of each ingredient is on the label.
Burn XT contains a very high amount of caffeine. As a result, it makes it unsuitable for first-time users and those with caffeine sensitivity.
It works by inducing thermogenesis in the body to burn fat.
3. Modere Trim Chocolate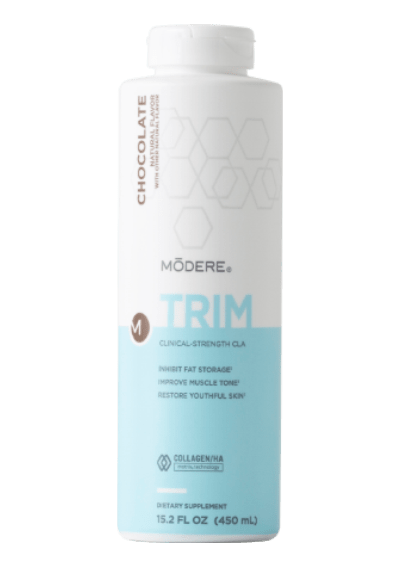 It is a liquid weight loss supplement that reduces the accumulation of fatty acids in the adipose tissue.
You should take only one tablespoon a day. The CLA it contains reduces your body fat level and improves your immunity.
It is also gluten and dairy free. The supplement only bears results if you eat and exercise sufficiently.
Some of the side effects include bloating and skin cracking.
Order Modere Trim Chocolate on Amazon Now
Conclusion
The supplement has many positive reviews and has been in production for quite a while.
Nevertheless, it has an array of side effects and is not FDA-certified.
Even so, it is safer for you to consult a doctor before using any supplement.
[related_posts_by_tax posts_per_page="4"]