Hair is the fastest-growing tissue in the body. On average, it grows between 0.2 and 0.7 inches per month. How fast it grows is mainly dependent on the person's genes.
This number goes down as people age or undergo very stressful situations. Furthermore, this might lead to hair loss which can be very frustrating. But, of course, these are not the only reasons that can cause hair loss.
It can also be caused by using harmful chemicals during styling that can destroy your hair, such as hair relaxers. Besides that, medical procedures like chemotherapy can cause hair loss.
Here are some vitamins and minerals to help relieve stress, which is one of the main causes of hair loss.
Luckily, a hair growth supplement can help curb this, like the happy head supplement. Even so, it is best if sufficient research before using any supplement.
Here is all you need to know before you invest in Happy Head.
What is Happy Head?
Happy Head is a hair loss treatment company based in California that produces thoroughly tested hair treatments.
The company offers different concentrations depending on your doctor's prescription. Micheal Pritsker actively owns the company.
How Long Does Happy Head Take to Work?
Time frames vary from one person to another. The only way to be sure is to try it out for yourself. The finasteride contained in the hair starts to work immediately after ingestion.
However, because your hair follicles require time to produce brand new hair, it might take between three to six months to start seeing noticeable results.
What are The Ingredients Used in Happy Head?
Happy Head reviews show that most of the ingredients used are FDA-approved. Additionally, the product itself is FDA-approved. These ingredients include:
1. Finasteride
Approved for use in 1992 and patented in 1984. Finasteride is a 5-alpha reductase inhibitor. Its primary use is to treat patterned hair loss by blocking the hormones in males and females on the scalp that stunt hair growth.
Moreover, it treats the enlargement of the prostate gland in the form of benign prostatic hyperplasia and the symptoms that come with it. Regardless, you can consume it alone or with doxazosin.
Finasteride for oral intake is in pill form. It has sexual side effects, such as male infertility and ejaculatory dysfunction. However, this only occurs when you take it in large doses.
2. Dutasteride
As another Benign Prostatic Hyperplasia, it has a similar function mechanism as finasteride. It helps slow down hair loss and possibly regrows hair.
Studies show that it performs better than finasteride in combating irregular growth of the prostate gland. Dutasteride also has a longer half-life.
It only exhibits slightly higher sexual side effects than finasteride.
3. Minoxidil
It is one of the oldest hair loss treatment ingredients and the most thoroughly tested. Minoxidil sells as an over-the-counter drug that comes in both liquid and foam that you directly apply to the scalp.
Minoxidil increases the flow of blood and nutrients to the scalp. It, in turn, promotes hair growth and stops any further hair loss.
Overdosing or using drugs that concentrate the ingredient highly are the only reasons that might bring out negligible side effects, such as an irritated scalp.
4. Retinoic acid
The acid is not only a vitamin A boost but also acts as a minoxidil booster. Retinoic acid has an array of benefits, such as:
• speeding up hair growth
• boosting your hair density
5. Hydrocortisone
Hydrocortisone actively reduces your body's swelling, itching, and redness as a steroid medicine.
It is used mainly to combat minoxidil and dutasteride's side effects, such as inflammation and swelling, which can lead to hair loss.
6. Spironolactone
Spironolactone works by blocking the androgen receptors. Consequently, this helps reduce the production of androgen, which causes hair loss.
Moreover, it also helps to treat high blood pressure and acne.
Happy Head Reviews
Happy Head reviews are mixed on the internet.
Some positive Happy Head reviews state:
• Money back guarantee if the product does not meet your needs within six months and is cheaper than other supplements.
Results start showing from as early as a month and a half. It improved both my hair growth and hair density.
The product doesn't leave a greasy residue.
It increases hair fullness after hair loss from hyperthyroidism.
Negative Happy Head reviews state:
No impact after months of application.
Sticky, oily, dull hair.
It lowered libido.
Accelerated shedding of hair.
The chances of any of the side effects occurring are rare. Very few cases occur; if they do, they are mainly allergic reactions. That will only cause inflammation and irritation.
Happy Head reviews show that the product is only available as a subscription from the manufacturer's website.
It will cost you $79 per month for an initial dermatological consultation and a monthly delivery of the 60ml bottle.
The manufacturer states that it's a prescription-only product.
Happy Head Alternatives
1. Gummies Biotin Builder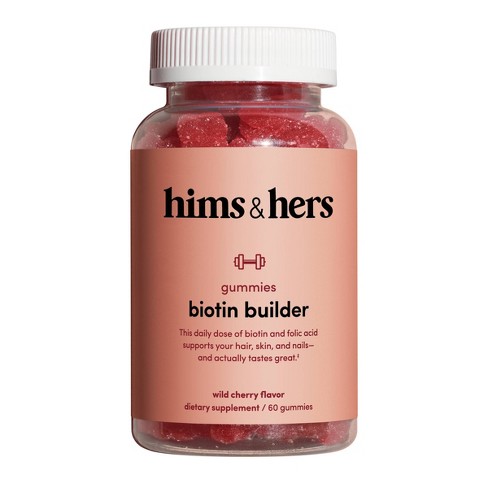 Biotin is a natural supplement that helps nourish your hair, tighten your skin and strengthen your nails. The supplement is also known as vitamin B7, the primary vitamin it provides.
In addition to this, it also supplies you with vitamins A, B6, B12, D, E, and C.
The gummies don't have allergens such as gluten and contain no artificial sweeteners or ingredients. Furthermore, the supplement helps you to grow more dense hair and stimulate new hair growth.
Order Gummies Biotin Builder Now on Amazon
2. Nutrafol
Nutraceutical Wellness in New York manufactures it. The supplement aims to reduce the androgens in your body to restore hair growth.
The ingredients in the supplement include Sensoril ashwagandha, which balances the leaves of cortisol in your body.
Nutrafol supplement also helps neutralize the inflammatory molecules that affect the growth of your hair.
3. Keeps
Keeps is FDA approved. It is in the form of a shampoo that you use daily. The Propecia that is within the drug helps to treat pattern hair loss.
It works by blocking the enzymes that change testosterone into DHT, which causes hair loss in males.
Order Keeps Shampoo Now on Amazon
Conclusion
Happy Head reviews show that the supplement is highly effective in restoring hair and strengthening it.
Nevertheless, even supplements with the best ratings and almost all positive reviews can be a health risk to the user.
Ensure that you seek professional medical advice before you buy Happy Head or any other hair growth supplement.
[related_posts_by_tax posts_per_page="4"]