If you are in the market for a nutrient-dense product, Green Vibrance Superfood is perfect.
It contains twenty-five billion enzymes, probiotics, vegetables, fruits, vitamins, adaptogens, and minerals. In addition, it has liver and skeletal support.
Moreover, it supports nutrition by supplying the body with a healthy number of micronutrients.
Additionally, it improves the digestion of foods and expedites the absorption of essential nutrients into the body.
Besides, it not only improves the circulation of nutrients in the body but also enhances their delivery to all cells.
But is it suitable for you? Let's find out.
Green Vibrance Superfood Ingredients
As mentioned above, Green Vibrance Superfood contains more than seventy nutrients. Below are some of the key ingredients:
·         Organic Barley Grass Leaf
Organic barley grass is a type of grain found in the barley plant. It has several health benefits, explaining why it is present in many green supplements.
Usually, it works in combination with other green blends, such as kale, wheatgrass, and spirulina.
Barley grass itself has essential nutrients, such as vitamins A, C, & K, and fiber. Specifically, vitamin A promotes the growth of cells and improves vision.
Additionally, it regulates the body's immune system.
Comparatively, vitamin C improves the health of the skin. Therefore, it expedites the repair of skin and the healing of wounds. Besides, it promotes oral health.
·         Organic Oat Grass Leaf
Organic oat grass leaf, also known as Avena sativa, is an herb commonly found in North and Central Europe.
It is an essential source of antioxidants, such as beta-carotene, and tricin, which are helpful agents in oxidative stress reduction.
Also, it contains apigenin, caffeic acid, chlorophyll, and spermidine. Collectively, these substances add nutritional value to the supplement.
Moreover, it contains powerful minerals like Zinc, magnesium, potassium, manganese, and iron. These minerals promote the development of bones and the brain.
·         Organic Wheatgrass Juice Powder
The natural ingredients present in organic wheatgrass juice include chlorophyll, amino acids, minerals, and vitamins B and C.
Not only do those ingredients promote the growth of bones and cells, but also the development of the brain.
·        Organic Spirulina
Spirulina is a type of blue-green algae.
This nutrient is considered a superfood because it provides many nutrients at once. Notably, it contains similar amounts of protein found in eggs.
Furthermore, it has medicinal value and can treat various diseases.
Moreover, research shows that its composition of antioxidants, anti-inflammatory agents, and phycocyanin promotes healthy living.
·         Organic Beetroot Juice Powder
Beetroot juice powder has several nutrients helpful for growth and development.
Specifically, beetroot is known for its ability to boost the production of blood in the body. Therefore, it promotes human health.
It not only boosts the nutrients in the body, but also adds the flavor of commonly consumed foods, such as yogurt, oatmeal, and smoothies.
Besides, it can help reduce the severity of illnesses such as high blood pressure. Also, it ensures healthy circulation of blood in the body.
·         Organic Parsley Leaf and Stem
The powder is essential because it supplements culinary and garnishing dishes. Mainly, it acts as a food color, improving the aesthetic appeal of foods.
Additionally, it has medicinal value and can contribute to the cleansing of the blood, improving blood flow, and reducing blood pressure.
·         Organic Carrot Root Powder
In addition to the mentioned ingredients, Green Vibrance Superfood contains organic carrot root powder.
This powder contains several vitamins and minerals, which promote growth and the body's healing.
·         Organic Broccoli Powder
Organic broccoli powder adds essential nutrients to the supplement.
Particularly, nutrients, such as vitamins A & C, and minerals like calcium, strengthen bones and the immune system.
·         Sunflower Lecithin
This ingredient has several benefits, including supporting the health of the skin.
Also, because it lowers harmful cholesterol levels, it improves the heart's health.
Why is Green Vibrance Superfood Unique?
Since there are many green powder superfood supplements in the market, picking one out of the many supplements can be challenging.
This powder has a high composition of nutritious ingredients. Note that most of those ingredients are organic and certified as safe for human consumption.
Also, since it combines most of its ingredients with high concentrations of digestive enzymes and bacteria, it helps to assimilate nutrients.
Moreover, it contains a generous amount of Vitamin D3, essential for bone development.
Finally, Green Vibrance Superfood includes essential minerals, such as Calcium, Potassium, Magnesium, Chromium, and Iodine.
These play critical roles in bone development, tissue repair, and skin care.
Who should buy Green Vibrance Superfood?
Any people looking for nutritional nourishment should consider it. This is because the product provides a convenient way to introduce multiple nutrients to the body with a single serving.
Also, Green Vibrance Superfood is suitable for people looking to reduce their consumption of other supplements. It contains the nutrients you will look for in alternative supplements.
Additionally, it is suitable for people with gluten intolerance.
It is gluten-free and contains low levels of carbs and calories. Therefore, it will favor people who are allergic to gluten.
Besides, its low levels of carbs and calories promote weight loss. Hence, the product can help people with weight loss.
Green Vibrance Superfood Reviews
It has a 4.7-star rating on Amazon.
The positive reviews state:
It reduces brain fog.
It also increases your energy.
There are noticeable improvements in overall health.
It can help with weight loss.
No more acid reflux.
The negative reviews state:
It clumps when mixing.
It tastes poor on its own.
The powder can cause heartburn, stomach upsets and migraines.
It was ineffective.
Order Green Vibrance Superfood on Amazon.
Alternatives to Green Vibrance Superfood
1.
Super Greens Powder Premium Superfood
Super Greens green powder is a vegan-friendly supplement for adults who want to meet their nutrient threshold.
It comes fortified with fruits, veggies and probiotics. In addition, it contains spirulina, chlorella and wheat grass which help boost immunity and contain antioxidants.
This powder also has a delicious berry flavor.
Order Nutra Champs Super Green Powder on Amazon.
2. Bloom Nutrition
This popular super greens supplement comes in mango, berry, citrus and coconut flavors.
It contains probiotics which help with bloating.
It's sugar-free and keto-friendly to help with weight loss goals.
In addition, it contains antioxidants, anti-inflammatory properties and adaptogens which boost your immunity.
Order Bloom Nutrition Greens Superfood on Amazon.
3.
Country Farms Super Reds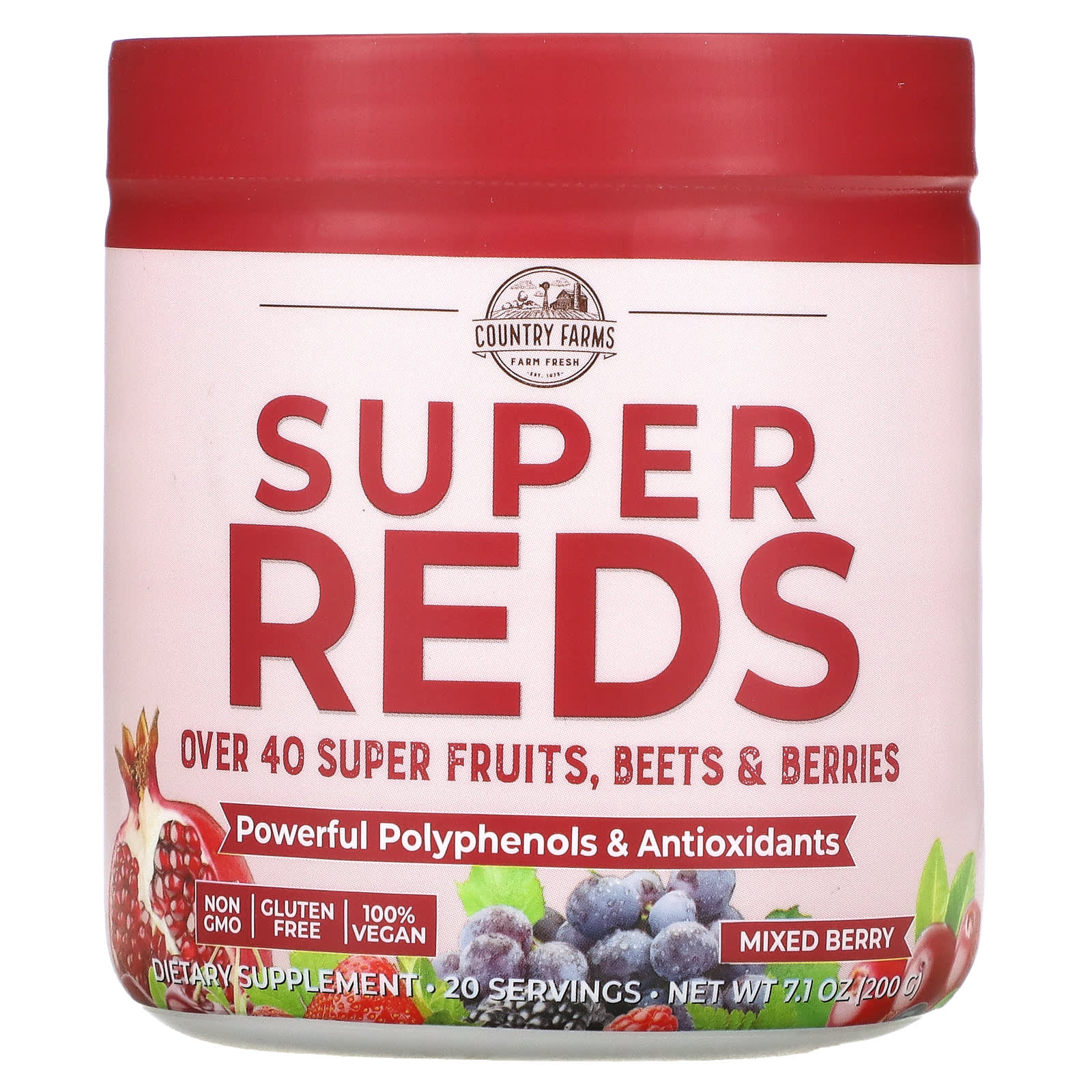 If you'd like a bit more diversity with your superfood, you can try red superfoods.
Super Reds is made with berries and vegetables rich in antioxidants, and nutrients that boost cardiovascular health.
In addition, it's gluten-free.
It also contains a polyphenol food blend that boosts energy, brain health, and energy.
Order Country Farms  Super Reds on Amazon.
Conclusion
Green superfoods are laden with probiotics, digestive enzymes, vegetables, algae or fruits. They are nutrient-dense and do improve your general health.
However, they should ot replace whole foods as a source of nutrition. You should only use them to boost your health not your baseline for health.
They are versatile. If you don't want to take the powders with a beverage, you can add them to bakes items, eggs, soup or salads.
Super greens are also low in fiber, and can sometimes contain high metal content.
Children and women who are breastfeeding and lactating should avoid these powders.
[related_posts_by_tax posts_per_page="4"]