Have you heard about Dr. Teal's Epsom Salt? If you haven't, you need not worry. This article will help you understand the supplement in detail.
Having all the information you need about a product at your fingertips is crucial before committing to purchasing it.
This is because you wish to seek certainty and the effectiveness of your products.
This article breaks down the specifics of this product, including its overview, ingredients, benefits, side effects, and alternatives.
Dr. Teal's Epsom Salt Overview
It is a solution that mixes pure Epsom salt with luxurious oils. The end product is a salt soak that will soothe and relieve your stress levels.
The properties of the ingredients that make up this salt are unique. For instance, Epsom Salt can revitalize you when you are tired.
Besides, it can refresh your skin and relieve you of achy muscles.
Also, the lavender essence present in the supplement can soothe you and improve your sleeping patterns.
For those reasons, this product is so popular among fitness professionals.
How Often Should You Use Epsom Salt?
Epsom salts don't have strict guidelines for use. You can take a soak once or twice a week.
You should only sit in them for fifteen minutes. Rinse thoroughly after soaking because the salts can dry out your skin.
Ensure that the water isn't too hot. If you're soaking to relieve muscle pain and the water is too hot, it will lead to swelling.
Ingredients of Dr. Teal's Epsom Salt
1. Magnesium
This is a key ingredient since Epsom salts are magnesium sulfates.
Low magnesium has been linked to poor bone health, increased risk of heart disease, and unstable mood.
Maintaining the health of your muscles and nervous system depends heavily on magnesium.
Besides, it can treat other conditions. It also activates the enzymes in your body, allowing them to break down amino acids to form protein.
2. Sulfate
Sulfate is another ingredient that makes up this product. Sulfates are salts that result from sulphuric acid.
The most common sulfate ingredients are sodium lauryl sulfate and sodium laureth sulfate. They are also found in shampoos and toothpaste.
Manufacturers often include sulfates in fitness supplements because they can bind oils together. This is also the case with Dr. Teal's Pure Epsom Salt, which mixes salts with oils.
3. Perfume
Perfume (fragrance) is the third ingredient that makes up Dr. Teal's Epsom Salt.
It gives you that pleasant smell when you are around other people.
4. Linalool
The salts contain a healthy dose of linalool. It is a flowery and spicily flavored terpene alcohol.
It is present in over two hundred plants, including lavender and citrus fruits.
Supplements with a high concentration of linalool tend to smell fruity and hoppy.
Additionally, it is found in essential oils. Research suggests that it has anti-inflammatory effects on the skin.
5. Activated Charcoal
Since ancient times, people have employed activated charcoal, a black, flavorless, and odorless powder, to treat various illnesses.
While activated charcoal is used as an emergency anti-poison treatment and to treat drug overdoses, it's used in Epsom salts to benefit the skin.
Activated charcoal helps cleanse your skin and revitalizes it.
6. Juniper Oil
This is an essential oil.
This oil has several advantages. Just to mention a few, it can prevent sepsis, fight arthritis, and purify the blood.
However, its primary role in the Epsom salts is to help reduce fatigue and soreness. In addition, it can boost mood.
7. Grapefruit Oil
Grapefruit oil comes from glands found in the grapefruit peel using cold pressing.
Orange-colored and citrus-scented grapefruit essential oil is commonly used in aromatherapy.
Reduced blood pressure and stress levels are just a few health benefits that grapefruit essential oil may provide.
Grapefruit oil helps keep your skin feeling soft and helps it retain moisture.
What is Dr. Teal's Epsom Salt Good For?
Below are some benefits of the product:
Relaxes the body.
Relieves sore feet.
Reduces stress.
Rejuvenates the body.
Refreshes the skin.
Side Effects of Dr. Teal's Epsom Salt
The product has some potential side effects if consumed through the mouth. Users of the product have reported the following side effects:
Stomach upset.
Blurry vision.
Muscle weakness.
Diarrhea.
Difficulty breathing.
Irregular heartbeat.
If you take too many Epsom salt baths, you risk a magnesium overdose. Potential symptoms are:
Nausea.
Headaches.
Lightheadedness.
Irritated and red skin.
It is only in extreme situations that a magnesium overdose can lead to coma or heart problems.
After soaking in Epsom salt, ensure that you rinse thoroughly because the salts can dry your skin.
Dr. Teal's Epsom Salt Reviews
It has an average rating of 4.8 out of five stars from over 7000 global reviews.
The positive reviews state:
It can lessen the effect of arthritis and fibromyalgia.
Eases pain.
Relieves stress.
It also makes relaxing easier.
The scents are pleasant.
The negative reviews state:
Causes swellings
Fake fragrance
It uses harmful chemicals.
Order Dr. Teal's Epsom Salt on Amazon
Alternatives to Dr. Teal's Epsom Salt
1. Earthborn Elements Epsom Salt
This product has a reusable bucket.
It helps with stress relief and relaxes tight muscles.
It has other properties, including easy solubility in water and aiding skin repair.
This salt is also food grade, meaning you can use it in a garden where you grow your food.
Order Earthborn Elements Epson Salt on Amazon.
2. Epsoak Epsom Salt
This unscented salt soak helps relieve stress, reduce muscle pain, cleanse pores and rejuvenate your skin.
It is easily soluble in water and will improve your health if you use it.
In addition, you can mix it with your shower gel to exfoliate your skin.
You can also use it to loosen stiff muscles.
Order Epsoak Epsom Salt on Amazon.
3. Coach Soak Muscle Recovery Bath Soak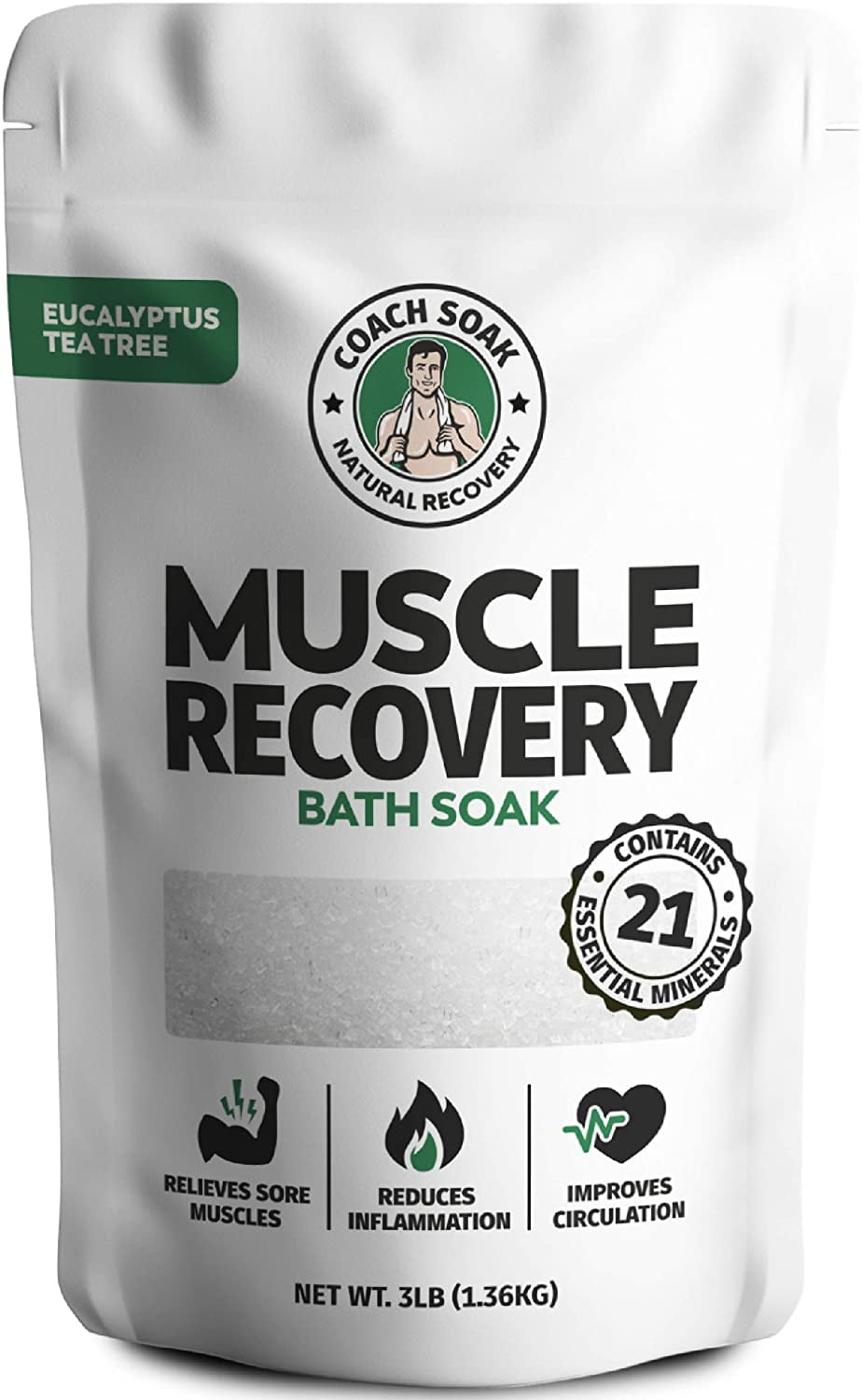 This is a muscle pain relief solution. You can also use it to relieve joint aches.
It is infused with Vitamin C and essential oils and is made from magnesium chloride rather than Epsom.
This alternative is suitable if you're looking for a salt soak with fast-acting components. In addition, it can be faster at relieving pain than Epsom salts.
It comes in four scents: Calming Lavender, Cooling Peppermint, Energizing Citrus, and Eucalyptus Tea Tree.
Order Coach Soak Muscle Recovery Bath Soak on Amazon.
Conclusion
Dr. Teal's Epsom Seat is one of the highest-rated salt soaks on Amazon.
Many people like this product for its effectiveness and affordable cost.
This brand is an excellent option if you're seeking Epsom salt soaks.
There is no scientific evidence that you will get nutritional benefits from using a salt soak instead of a regular soak.
[related_posts_by_tax posts_per_page="4"]