Consuming green matter that includes fruits and veggies is essential to your balanced diet.
If your diet includes green matter, you will become stronger and healthier, but most importantly, you will develop high immunity to diseases.
An adult is required to take 2 to 3 cups of greens in a day. Nonetheless, many factors can hinder you from adhering to these recommendations.
Today, some supplements have replaced greens on many Americans' plates.
For example, Bloom Super Greens promise to bring back the lost glory of greens in our diet.
This article will inform you about Bloom Super Greens.

Bloom Super Greens in Perspective
Created by Bloom Nutrition,this powder has been formulated with more than 30 components.
This product is the top-selling and most popular supplement in the category of superfoods.
The dietary supplement is targeted toward those who have realized the nutritional deficit of greens in their diet.
According to Bloom Nutrition, the product has an array of potent nutrients which escalates your energy, boost your immunity, and reduce bloating effects.
Safety and Side Effects of Bloom Super Green
You should not have severe reactions if you are sensitive to some components inside the formula.

However, some people should take caution before taking such supplements.
These include lactating women, children, and people with questionable medical standing.
What are the Ingredients of  Bloom Super Green
Fruit and Vegetable  – Organic Carrot, Broccoli Head, BlueberryPowder, Ginger Extract

Green Superfood blend- Wheatgrass Power, Alfalfa Leaf Powder, Barley Grass, Broccoli head

Digestive Enzyme Blend – Cellulose, Lipase, Pectinase, Xylanase, Maltodextrin, Amylase

Tree (Moringa), Strawberry Fruit Powder, Lead Powder

Probiotic Blend – Lactobacillus, Inulin

Antioxidant Beauty Blend – Raspberry Fruit Power, Grape Seed Extract, Horseradish 
Benefits of Bloom Super Green 
On their website, Bloom Nutrition claims that their product takes care of bloating and digestion problems and enhances immunity. But first, let us look at how this product works.
These greens have a blend of probiotics which

facilitates the growth of good bacteria

and supports your digestive system. They will fight off the harmful bacteria when there are enough good bacteria.

The supplement comes in 3 flavors – Chocolate, Mixed Berry, and Citrus.

Bloom Super Green supplement contains over 30 natural nutrients.

Bloom super greens are free of insulin and have low carbohydrates.

Super Greens give a practical method for helping your energy levels. In contrast to most drinks, these greens provide normal vitality from micronutrient-rich foods.

Super green formula has components that promote digestive health.

The natural ingredients in the formula reduce gas in the gut.

Indeed, you know fruit and Vegetable nutrients play a significant role in supporting the immune system, and these super greens do not fall short.
Bloom Super Greens Cons

Bloom super green has proprietary blends meaning it is not clear what is the quantity of each ingredient in the formula.
The proprietary blends make it hard to ascertain the dosage of ingredients in the formula.
Unlike other nutritional brands, bloom super green does not offer discounts if you purchase more than one tub. 
They also do not have a subscription program.
Bloom Super Greens Customer Reviews
By skimming through the customer reviews on Amazon, you gather enough of what users think.
This product has a rating of 4.5 out of 5 stars from over 12,000 reviews.

Positive Reviews
Great taste, especially from the matcha flavor.

It also eliminates bloating.

The product helps with digestion.

Users noticed an energy boost after taking it.

Moreover, it boosts immunity.

Negative Reviews
It can cause bloat.


That blooms superfood brings about diarrhea.

Unreasonable refund policy whereby customers can only get refunds if they haven't opened the product.

It is also pricey.

Gritty texture.
Moreover, the company warns of potential cross-contamination during manufacturing.
Order Bloom Super Greens on Amazon
Bloom Super Greens Alternatives
From the customer reviews, you can tell that the product is popular among users, and most were optimistic about bloom super greens.
If the information about this product is not up to your expectations,  consider the following alternative products.
1. Purely Inspired Organic Greens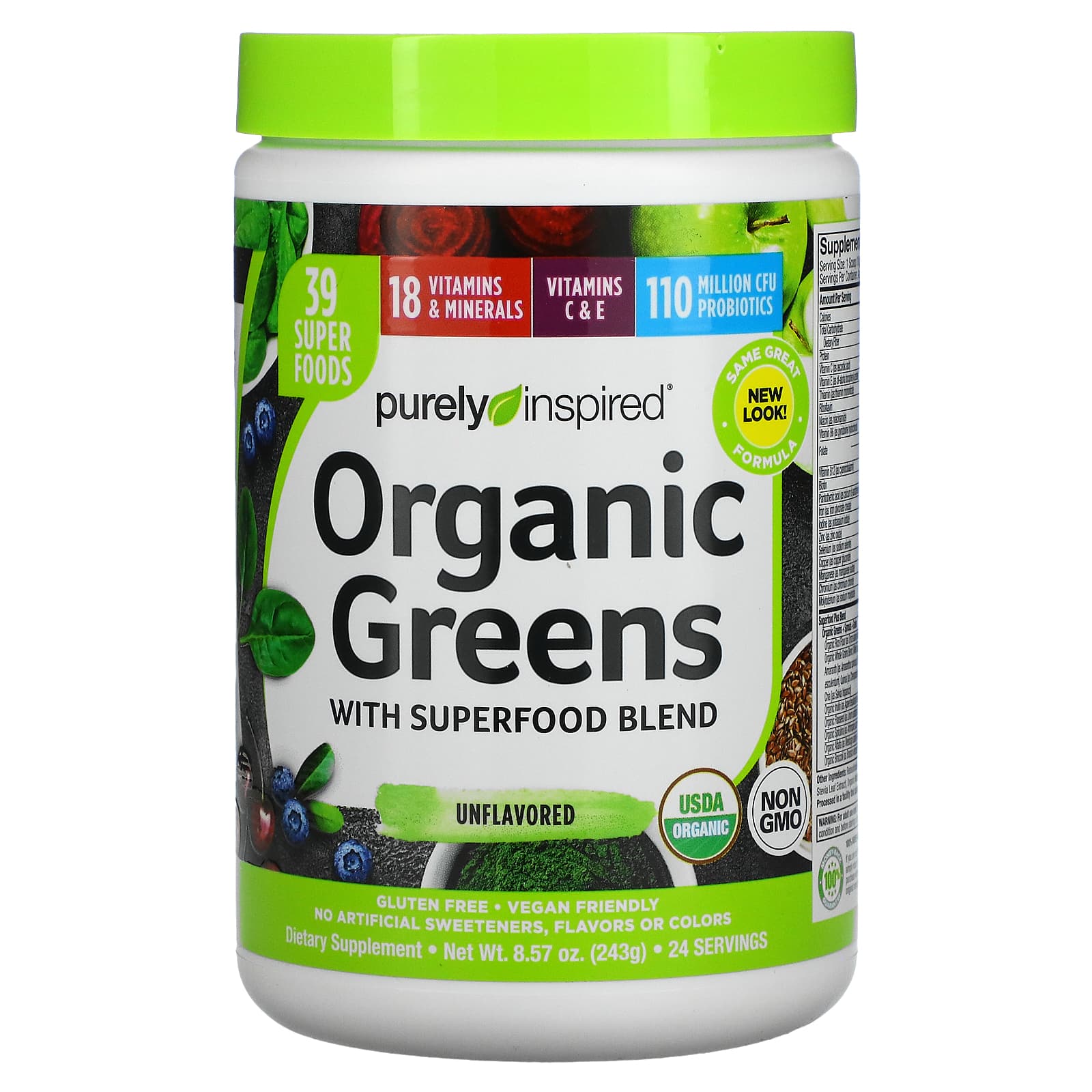 Organic green is a nutritional supplement created by Purely Inspired. This formula contains a blend of 39 superfoods and 18 Vitamins with active probiotics.
Purely Inspired is a reputable brand experienced in the production of organic supplements.
Many customers have demonstrated their delight in these products through their reviews on amazon.
Order Purely inspired Organic Greens on Amazon.
2. Supergreen Tonik
This powder elevates energy levels, boosts immunity, and enhances sleep health.

Do you usually feel tired and sluggish? This pack of nutrients will supercharge you and brighten your day.

The product also enhances focus, memory, and concentration.
Moreover, the blend contains kale, ashwagandha root extract, and ginkgo biloba, which have been shown to support stress relief.
Taking this product can also boost your post-workout recovery.
Order Supergreen Tonik on Amazon.
3. Country Farms Super Greens
It is an alkalizing mix of fruits, vegetables, greens, and probiotics that helps your immune system.
Super Greens is a tasty drink with a rich profile of well-researched nutrients that enhance your overall wellness.
It has multiple flavors, including chocolate, strawberry, unflavored, and apple banana.
Due to its high fiber content, this product also improves gut health. Additionally, it is an energy booster that can give you the kick you need at the start of your day.
Order Country Farms Super Greens on Amazon.
Conclusion
This product may not be effective for everyone. However, consumer reviews should offer a balanced list of things to consider before trying this product.

As mentioned earlier, this product is excellent for your health due to its rich ingredients. It can be taken as a smoothie or mixed into your drinks.
This product is 100% natural, GMO-free, sugar-free, keto-friendly, and certified vegan. It's perfect for as many consumers are possible.

However, green powders are only effective when you take the proper ingredients at a suitable dose. Therefore, supplementing your diet with these powders helps you ensure you consume as many nutrients as possible.
Green powders have more nutrients from their raw veggie content than you would get from cooked veggies.
High-quality powders such as this one, with thousands of positive reviews, are more than likely guaranteed to deliver a pack of nutrients.
However, if you already have a healthy lifestyle, this could be a waste of resources. Nevertheless, speak with your doctor before adding this supplement to your routine.
[related_posts_by_tax posts_per_page="4"]