Gluten free protein shakes are an excellent way of adding protein to your daily diet without worrying about allergic reactions.
Bodybuilding shakes come in handy before, during, and after workouts since they help keep the energy and improve muscle mass and strength.
Muscle-building workouts require high protein levels for muscle repair and improvement.
Most of the best gluten free protein shakes have great reviews, and users approve of their benefits.
Why Gluten Free Protein Shakes?
No gluten means no risks of severe reactions or a possible ER visit.
Gluten-free means better managing celiac disease, controlling dermatitis herpetiformis (DH), and reducing gluten sensitivity symptoms.
Besides the health risks, gluten-free has a fan base among people who do not have any gluten-related conditions.
What to Know When Choosing Gluten Free Protein Shakes
1.      Benefits
Protein shakes are best for helping to improve and develop body muscles, especially for fitness enthusiasts or athletes.
Muscle gain should benefit from the shake since that is the primary factor. To build and repair muscles.
Weight loss is an added benefit of protein shakes.
Most shakes also come in different flavors that you can choose from.
2.      Ingredients
We may not be doctors, but at least we know what works for us and does not.
The more natural ingredients, the better and healthier the shake. This means no artificial flavors or additives in the shake.
In addition, if you are under any medication, some ingredients may cause severe reactions in your body, so before taking any protein shake, seek advice from your doctor.
3.      Side effects
Protein shakes do come with side effects.
The potential side effects of protein shakes include diarrhea, acne, nausea, thirst, bloating, reduced appetite, tiredness, and headaches. This is more likely if you overdose on protein shakes.
4.      Reviews
Reviews on online retail platforms like Amazon give you a wide perspective of a product and helps you decide on the best.
Rates and reviews shed light on the product's side effects, benefits, and public approval.
The more reviews and rates, the more insight and approval.
According to reviews, rates, and benefits, here is a list of 10 best shakes for muscle growth.
#10. Orgain Organic Vegan Protein Powder
This protein shake is certified USDA organic. In addition, it contains no added sugar, GMOs, or preservatives and is gluten, and lactose-free.
A plant-based protein powder is ideal for muscle recovery and growth.
It comes in five flavors: vanilla, iced coffee, natural unsweetened, pumpkin spice, and strawberries & cream.
Mix it with water, milk, or your nutritious shake recipe or smoothie. It is also suitable for baking.
What you will love about it
It's highly effective for weight loss.
It also helps you maintain your new weight.
The powder contains no allergens.
It mixes well.
What you may not like
It is not a low-carb protein powder.
It can cause stomach pain and bloating.
The powder also has a gritty texture and chalky aftertaste.
Order Orgain Organic Protein Powder on Amazon.
#9. Quest Nutrition Chocolate Milkshake Protein Powder
Quest protein powder is an excellent mix of dairy-based protein isolates.
It is made with 40% slow-absorbing micellar casein and 60% fast-absorbing whey protein powder to provide the best workout balance.
Moreover, it comes in different flavors you can enjoy in smoothies or baked in different pastries.
What you will love about it
It has a great taste and texture.
It's low-carb and keto-friendly.
What you may not like
It contains sucralose and stevia as artificial sweeteners.
The texture is gritty.
It is listed as gluten-free but is manufactured by a company that processes wheat products.
Order Quest Nutrition on Amazon.
#8. KOS Organic Plant-Based Protein Powder
KOS Organic protein powder is a plant-based protein supplement that is vegan-friendly and contains 5 protein mixes: flax seed, pea, quinoa pumpkin seeds, and chia seeds.
It is an excellent protein powder for weight loss and weight management.
The protein supplement helps with weight loss through the soluble fibers that make you feel full for a more extended period.
What you will love about it
The taste is pleasant.
The texture is also excellent.
The unflavored powder goes well with many beverages.
In addition, it can help you manage your appetite because it's a suitable meal replacement shake.
What you may not like
The high carbs in the protein powder can make you gain weight depending on your body's response.
It's excessively sweet.
It can cause nausea.
Finally, the aftertaste can be horrible.
#7. Dymatize ISO100 Hydrolyzed Protein Powder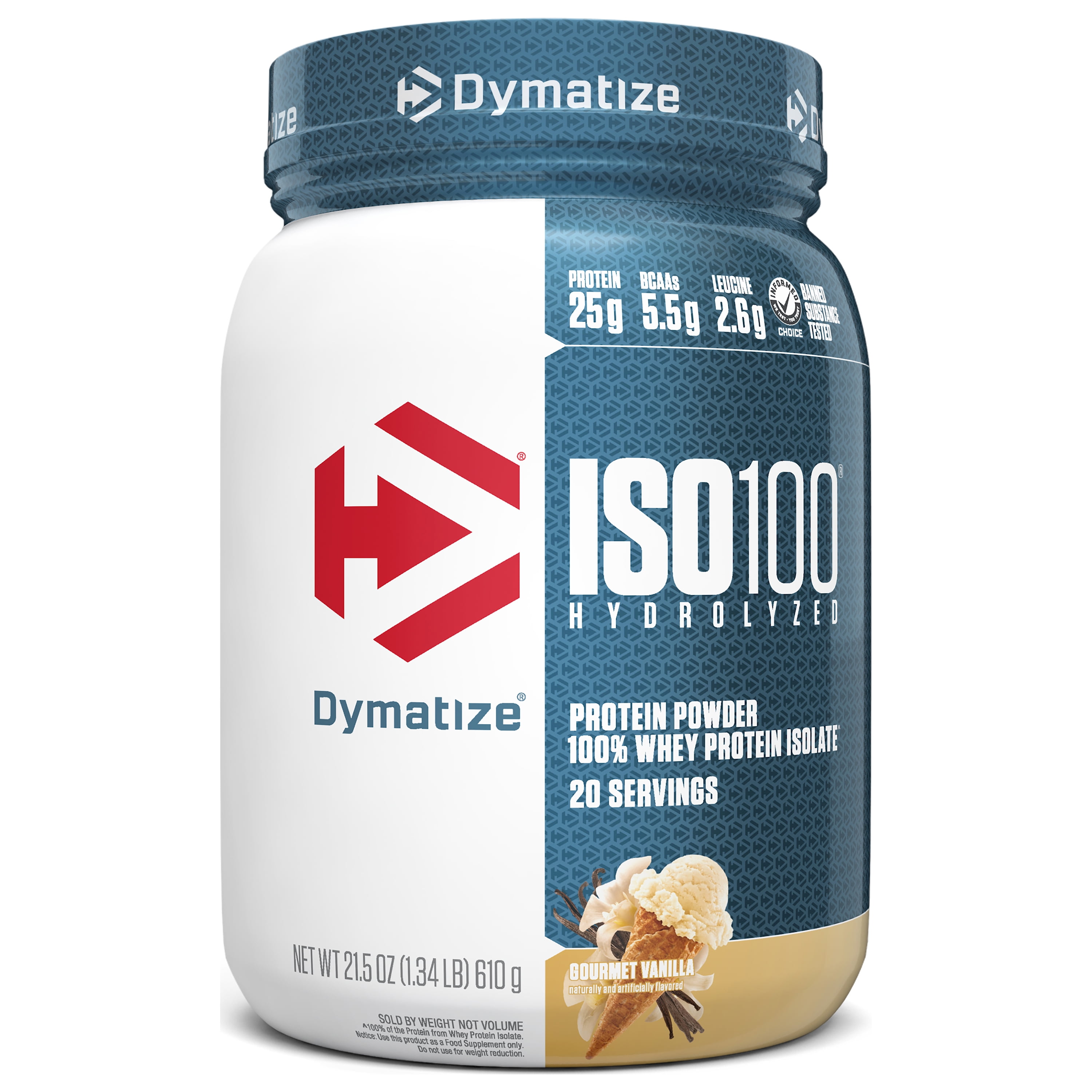 Dymatize protein powder is a gluten-free, hydrolyzed, and fast-digesting whey protein shake.
In addition, the 100% whey protein isolate and fast-absorbing protein maximize your training and muscle recovery.
Although it contains a small amount of whey isolate, hydrolyzed whey makes up an immense amount, which results in fast and easy digestion.
What you will love about it
It comes in nine flavors: cookies & cream, vanilla, chocolate, banana, birthday cake, orange, fruity pebbles, and chocolate peanut butter.
The taste is amazing.
In addition, it mixes well.
What you may not like
It mixes into a foamy drink.
Some flavors don't taste that great.
Order Dymatize ISO100 on Amazon.
#6. Body Fortress Whey Protein Powder
It is formulated for muscle building and strengthening. Body fortress whey protein powder is best for bodybuilders and weightlifters.
Additionally, the present amino acids and creatine help to improve training recovery and maximize performance to achieve your fitness goal.
Moreover, Body Fortress is a good choice for a cheap and power-packed protein powder.
What you will love about it
It tastes delicious.
In addition, it delays burnout.
What you may not like
It's expensive.
The taste of the chocolate peanut butter may throw you off.
It can also cause bloating and nausea.
Order Body Fortress Whey Protein Powder on Amazon.
#5. PlantFusion Vegan Protein Powder
This is the most complete plant protein powder blended with vegetables, legumes, and grains. BCAAs are also added for recovery and muscle energy.
In addition, the protein powder can be used for making smoothies and baking since plant fusion protein powder works excellently in pastries and recipes.
It has benefits that make it one of the best; some of the benefits are; it sustains energy, is easy to digest, naturally delicious, and builds muscles.
What you will love about it
The flavor is delicious.
In addition, it mixes well.
It uses natural sweeteners.
What you may not like
It has excessive sodium levels in one serving (390mg).
The powder is too sweet.
Order PlantFusion Protein Powder on Amazon.
#4. Whey Protein Powder by Pure Protein
Pure protein vanilla protein powder is a fast-acting protein powder that provides essential amino acids needed to help support muscle strength, energy, and performance.
It can also be consumed with meals or a protein shake as a post-workout supplement. It has low sugar and a great taste.
Great as a pre-workout shake to fuel your workout sessions and improve your performance and muscle strength.
What you will love about it
It has great value for money.
In addition, it mixes well.
There is no aftertaste.
What you may not like
It contains sucralose.
It doesn't have many other nutrients.
The powder is manufactured in a company that processes wheat products.
Order Whey Protein Powder on Amazon.
#3. Premier Protein Shake
Sometimes taking a break from protein powder seems convenient to add proteins to your diet.
Ready-to-go protein shakes come in handy regarding the time and nourishment it provides.
These gluten free protein shakes help curb hunger and is best for post-workout recovery.
Being an on-the-go protein shake, storage before or during delivery may clump up the shakes creating an unpleasant taste and texture in the mouth.
What you will love about it
It's a number-one bestseller for protein shakes.
It's affordable.
In addition, it's ready to drink but can also be mixed with coffee.
What you may not like
It gets chunky.
The bottle can explode when resealed and transported.
Order Premier Protein Shake on Amazon.
#2. Garden of Life Sport Whey Protein Powder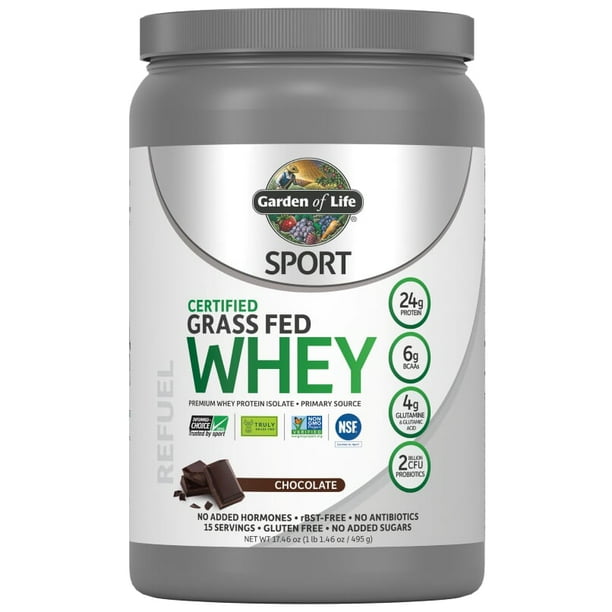 A tremendous post-workout recovery tailored for workout enthusiasts and bodybuilders.
It supports the body's immune system and refuels and repairs muscles after an intense workout routine.
The best part is that the gluten-free protein shake has no artificial products.
What you will love about it
It's organic.
The powder mixes well.
No side effects.
What you may not like
It can cause stomach cramps and bloating.
It can lead to headaches.
The powder is expensive.
Order Garden of Life Sport on Amazon.
#1. Isopure Whey Isolate Protein Powder
This is a well-known brand among keto dieters with low-carb and zero-carb products of excellent quality and benefits.
It is lactose-free, has zero artificial ingredients, and is an excellent alternative for weight loss.
What you will love about it
It has a smooth texture.
It has enough nutrients to be a meal replacement shake.
The powder is low-carb.
What you may not like
It's too sweet.
It doesn't taste very good.
Order Isopure Whey Isolate Protein Powder on Amazon.
Conclusion
Gluten free protein shakes come in varieties of flavors and forms, which gives you a field of varieties to choose from.
Also, in the market, you will find protein shakes for kids experiencing growth spurts and never-ending appetites.
Having a list of the best products helps you narrow your search list, and if you are new to this, it helps you gather as much information as needed.
[related_posts_by_tax posts_per_page="4"]